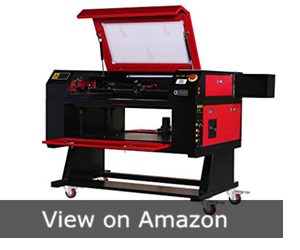 The powerful 80 W laser engraving machine has an engraving area of 500*700 mm with the maximum speed of 1000 mm/s.
It has got a fairly good resolution of 1000 DPI and precision value of 0.01 mm.
The machine has got USB port for communicating with the laptop and computer and U-flash disk for storing the data or image which needs to be engraved.
The USB communication allows users to have great flexibility in designing their designs on a computer and give a command for engraving them, once their design is ready with all the edits and modifications.
This laser engraving machine has got good air assist which removes the excess heat generated during cutting and engraving, thus increasing the life of the machine.
This feature is quite common in good laser engraving machine, as over-heating and excessive use of the machine make laser engraver vulnerable to wear out easily.
The software supported are Corel Draw and CAD, both of which works super fine while operating such laser engraving machines.
This software is easy to use and quite popular among users, which further adds their value. In addition to the above software, this machine has an offline control system and English LCD.
The net weight of the machine is 180 Kg and draws high power from the source switch, therefore on needs to keep in mind the switches they will employ in connecting it.
The machine is capable of engraving almost all the materials but not suitable of engraving metals.
The machine is on the expensive side and works well in the professional world.
It is also capable of cutting the materials besides having a great performance in the engraving.
The precision is good. Before operating the machine, ensure that the nozzle of the laser is clean, and keep in mind to clean the alignment mirror.
The rotary axis comes in handy for carving out great designs and art work and is very appreciated by the users who are involved in that segment of work.
This unique feature might be a key differentiator among many other features of this laser engraving machine as it is very catchy and allows the user to have a great degree of freedom in carving out the designs.
Pros
High Power Laser 80 W
Great Precision
USB Communication and U Flash Disk
Good Air Assist
Rotary Axis for diverse designs
Large Engraving Area
Corel Draw and CAD software supported
Cons
Expensive
Not Capable of Engraving Metals well
Lacks power for 80 W laser
Laser mirrors are not aligned
[jetpack-related-posts]