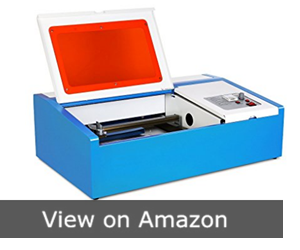 With laser engraving area of 300*200 mm, this laser engraving machine of 40 W is capable of engraving wide range of materials like Plexiglas, wood, plastic, PVC, bamboo, acrylic, etc.
The high stepper motors ensure the high precision of the machine and allow it to engrave on to surfaces with minimum error.
The laser engraving speed ranges between 0-350 mm/s and has cutting speed in the range of 0-35 mm/s.
This laser engraving machine has Corel Draw software associated with it.
This makes it very easy for the designers to design their image designs in the Corel Draw and give a command for engraving on to the material. One can also cut high-end designs using the combination of software and machine.
The cutting power of this laser engraving machine is also very good. It supports various image formats such as JPG/JPEG/WMF/EMF/PLT/BMP.
Corel Draw is equipped with both Newly Seal and Newly Draw, handy for both engraving and cutting work.
The machine can cut paper as well as wood but is not suitable for engraving on metals.
The laser power is not enough to carve out on metals, even if one would try then it will heat the machine, and the precision will not be good to carve out on metal.
There is a fan inside the machine whose work is to disperse the heat generated during the process of cutting and engraving. The engraving and cutting process heats up the machine.
Therefore modern laser engraving machines are equipped with the air disperser fans.
This feature is very important for the long life of the laser engraving machine, and one should readily watch out for air dispenser before zeroing in on the laser engraving machines.
Pros
Good quality Engraving and cutting
Very good location precision
COREL DRAW software supported
Engrave wide range of materials
Air dispenser inside the machine
Cons
Cannot Engrave Metals
Intermediate Laser Power 40 W
Laser might wear out after extensive use
[jetpack-related-posts]