4. Qiilu 1500mW Mini – Most Portable Desktop Laser Engraving Machine yet Affordable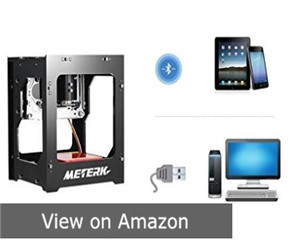 The Meterk 1500mW USB/Bluetooth4.0 Laser engraving machine is very good for the beginners and is very easy to use and operate.
It is not very costly also, thus allowing novice users to practice the art of engraving easily.
This laser engraving machine has also got mini fan so as to clean the carved surfaces, and they appear clean.
This laser engraving machine is very friendly for the user, as it has got detachable laser head which can be used for any daily purpose use and you also have the advantage of replacing it if the original one wears out.
The maximum engraving area of this laser engraving machine is 42 * 42 mm, and the net weight of the machine is 1kg.
The machine is capable of engraving on materials such as Wood, Leather, Paper, Ivory, Bamboo but it cannot engrave on metals, glass, and ceramics. It has got a strong frame design which is made of Iron Alloy.
Therefore it is strong, and one would find its design to be simple but quite solid, and there will be fewer vibrations in the machine while engraving as compared to the acrylic built frame designs of laser engraving machines.
The software which comes with the machine is easy to install and is supported on Windows 7/8/10/XP as well as IOS/Android/PC via Wireless Bluetooth4.0. The engraving speed is quite good.
There are few settings involved before starting out to print the engraved image on to the surface, but they are very simple to be understood by a new user.
The focus ring on the laser head allows you to set the focus of the image to be engraved in accordance with the requirement.
One can easily change the laser intensity to get different versions of the engraved image on to the surface.
This laser engraving machine is ideal for using at home; it is not a machine to be used for industrial or commercial use.
This is best for people who are just starting to test their hands at engraving images on the surface.
The functions are basic and easy to understand, and one can also refer to the instructional manual and CD which come along to make the user understand about the dynamics of the machine.
Further, one can also refer to the online videos for understanding the basics of this laser engraving machine and how to set up the machine.
Pros
High Quality
Strong Frame Design – Iron Alloy
Good engraving speed
Ideal for Beginners
Engrave Materials like Wood, Plastic, Cardboard, Bamboo, etc.
Inclusion Of Mini Fan
Not Expensive
Wireless Connection
Cons
Cannot engrave Metals, glass, ceramics
Not suitable for industrial use
Software not supported on Mac
Only for product within 78mm talk
One of the gentle reminders while operating this laser engraving machine is not to stop the machine when it is working, as it will considerably impact its functionalities and might wear out.
[jetpack-related-posts]