6. DJI Mavic Pro Drone – Best VR Portable Quadcopter with Camera 2017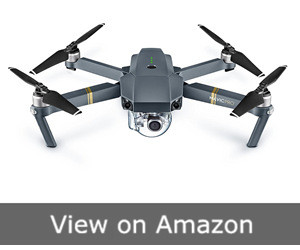 This quadcopter camera drone is the latest in the series of Phantom. There is much advancement in this new edition while keeping the existing quality in technology.
First of all, it is one of those drones which you can easily fold it and keep it in your shoulder bag pack, as it is light in weight which can be folded to a size of a water bottle and can be kept in the bag.
It is equipped with OcuSync transmission technology which allows it to have a pretty good range, quoted close to 4.3 miles.
This drone can fly up to 40 mph. Manual quotes the flying time of 27 minutes, but it gives close to 23-25 min, which is fairly good.
There are various pros of this device as it is
super light
, it might appear fragile in comparison to DJI Phantom 4, but it is made up of carbon fibre.
Therefore one need not worry in that department.
It records 4K video at 30 fps, and one can also record 1080 p videos at 60 fps. The video quality is clear and smooth.
There is one advancement in viewing app, as in comparison to previous versions, one can now view live videos by drone in the device at 1080P, against the older version where it was allowed up to 720P only.
The follow any point feature is quite good, you can select any location on the device, and it would automatically fly to that location, avoiding collisions on the way with good collision avoidance technology in place.
One can also make this best camera drone follow oneself.
It has got a one touch option where the drone will just hover in front of you on the push of single button.
One new catchy feature is that in the world map option you can track your drone even if you are not able to see it.
There is always a margin for improvement, so in the case of this best drone camera DJI need to make it more waterproof, so that one can have seamless video experience in the rain. One must avoid uneven floor for landing the drone.
There is one new additional feature which might excite some but may upset some, as in this drone you will have to tap on the device to make the drone camera focus to a particular object.
DJI has got awesome technology in place, but they are not improving on their customer support feature, there is still a lot of negative reviews regarding that.
It is expensive. Therefore one must have a prior knowledge about drone camera flying, or one must practice by not taking the drone too far.
Pros
Super Light and Strong
Live viewing at 1080 p
Hovering Feature
Good flying time and speed
Collision avoidance feature
Good for Professional use
Cons
Pathetic Customer support
Expensive
[jetpack-related-posts]