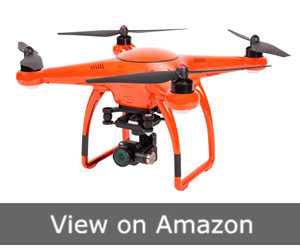 Autel X-Star Premium is one of the best drone cameras in the segment with its line of great customer support and inculcating new significant advancements with their each upgraded product.
The drone has 4k ultra camera with 108-degree field of view. It weighs 3.2 pounds and clicks photos with 12 MP camera.
It has got an LCD for display to the controller which makes it super easy to control and see at the same time.
The LCD displays all the relevant information needed for flight, like battery remaining, aerial location, altitude range, global orientation, etc.
This feature makes it very useful for obtaining live information while the drone is in the air. It has good range while you fly the drone in a line of sight, the product mentions 1.2 miles and closely delivers the promise as long as you are flying in line of sight.
One of the best features of this best drone camera is that it gives clearer picture and footage quality at extended range which is owing to the fact that it operates with the
frequency
of 933 MHZ, where as other drones use 2.4 GHZ, thus it minimizes interference.
It has got the best customer support, which they claim to be seven days a week and in fact, they do support seven days a week.
It has got an automated feature like many new segment best drone cameras, which is to set its sail to the position pointed on the map in your iPad or another device automatically.
On the negative side, it becomes a bit unstable while taking off and landing, though a little but it does topple while landing.
One of the things they have to work on is to provide the latest Android support as it failed while connecting with the Nougat Android update.
It was on the cheaper side when it was released, but its prices have gone up though less than
DJI Phantom 4
.
On comparing with other drones, especially the DJI series best camera drones, this drone beats them in customer support provided by the company.
Further if at any moment the drone loses the connection with the app or device, this drone automatically comes to its home position where as in DJI drones you have to press RTH button to do so.
It has also got the beginner's mode where its aerial distance, the flight is restricted up to a particular threshold thus giving novice operators some relief to try their hands in that mode before sailing out in vast open fields.
Pros
Great quality 4k Footages
7 Day Customer support
Automatically returns to Take off position when lost connection
Great Range
108 Degree field of view
Cons
Bit Unstable in Taking off and Landing
Failed Connecting With latest Android Nougat
[jetpack-related-posts]