7. DJI Phantom P3 Standard – Good Drone Helicopter for Training Beginners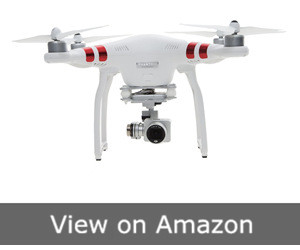 DJI Phantom P3 Standard drone camera is quite good for the beginners.
It is not expensive as compared to its upgraded versions and offer all basic features required.
It weighs 8.2 pounds. It takes stunning 2.7K HD videos and 12 Megapixel photos. Fly time mentioned is up to 25 mins, but it does give you a fair flight time of 22-23 mins.
Many professionals keep this best camera drone as their back up drone because it provides good quality videos and photos and is not expensive either. It is almost less than half the price of DJI Phantom 4.
It is fast, flies high and takes good stable pictures and videos.
The range is good for beginners though professionals might have to look for another if their work requires a longer range.
It uses fewer GPS signals then other advanced versions of the DJI Phantom, but you can still view the live HD recording on the DJI Go app, though up to a particular distance.
Follow me feature is available and one must also learn to operate things manually as not every time there is a smooth synchronization between the three: controller, drone, and the mobile device.
It has no downward looking visual eye.
Therefore, it mostly operates upwards and sideways.
The landing point is not precise so keep an error estimation accordingly.
The DJI customer service again disappoints and one must be ready to face that challenge or find other ways to combat that because you will not find any other drone in this price range providing such good quality videos and pics.
Overall this best drone camera is very good for the people who have just starting to fly and also desire for good quality pictures and videos. It is well in budget.
DJI has got an amazing technology in place for drone cameras, their each line of product is well concentrated for great aerial videos and photos.
Pros
Good for beginners and semi-professionals
Stunning 2.7K HD videos
Stable pictures and videos
Not very Expensive
Follow-Me feature available
Cons
No downward looking eye
Landing point is not precise
Poor customer support
No obstacle avoidance feature
[jetpack-related-posts]