3. TiVo BOLT – Best TV Box with Recorder in This List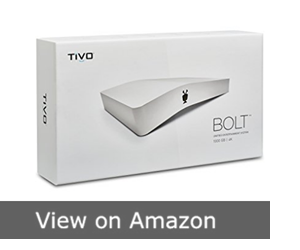 The TiVo Bolt not only got the most fashionable design in this list, but also, it is the best TV box with recorder in this list. It is a DVR that can record numerous programs at once and allows you to customize playback and scheduling.
Comparing to the Bolt+'s 3TB storage, the TiVo Bolt only got 1TB. But, it is otherwise versatile, great and powerful for you if you are only recording for personal usage.
The software has been patched up with a new style with channel logos and flatter icons that give it a modernized look. However, this is not a big change for UI lovers.
The faster processor empowers the Bolt to support 4K resolution, but you don't need to wait for a 4K TV to exploit what the Bolt offers.
Design
The TiVo bolt comes with a sleek eyebrow-like design (bent/angled chassis).
They say the angled chassis increases the airflow beneath the box so that the fan can cool its 3GB of DDR memory and dual-core CPU more effectively.
The TiVo team assures us more on design.
Streaming Services
TiVo's supply of on-demand apps keeps on increasing, yet for the time being Amazon Instant Video with Prime, AOL On, Netflix, Vudu, Hulu Plus, Web Video Hotlist, Yahoo, Youtube, HSN, and Plex are available for video.
For music Pandora, iHeartRadio and Spotify are available. The app platform likewise is based on the Opera web browser which gives bolt access to apps developed for Opera.
Functionality
You can view up to and also record four different programs simultaneously while using the digital video recorder. This resolves primetime viewing clashes.
Despite the fact that the 1TB internal hard drive is smaller than those in different DVRs we explored, it can still record up to 150 hours of HD content and about 1,000 of standard-definition content.
It has in-built Wi-Fi and can stream video to multiple rooms in a house if you are opt-in for additional TiVo Minis.
The TiVo Bolt makes it convenient for you to record the movies and TV shows with a 4K HD quality. Also, there are other awesome settings for recoding different videos!
Pros
Bolt is faster than predecessors (Premiere and Roamio models).
QuickMode is the best way to fling watch in a rush.
It has an effective search function that allows you search for a movie in multiple content sources at once.
Commercial skipping works, and it's easy to use.
One year of TiVo service included.
Cons
SkipMode at times fails to appear on shows where it ought to.
"Lifetime"TiVo services just got more expensive.
It can't gain access to satellite content.
The Odd shape isn't for everybody.
No 3TB option, no out-of-home streaming yet.
[jetpack-related-posts]