2. AMAZON FIRE TV – Bestselling TV Box Featured with Voice Control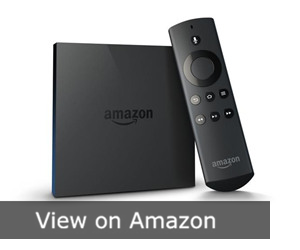 This TV box has a faster processor and supports 802.11ac Wi-Fi standard. It now streams Netflix and Amazon videos in 4K HD which is the highest definition for TV box.
The optical audio output has also been replaced by a MicroSD card slot (to bolster the 8GB of internal storage) used for storing more games and apps.
We also got an article about the top 10 Amazon Fire Apps, which may help you know more about this device.
The 4K Ultra HD feature allows you to connect the Fire TV to your 4K HD TV and can watch the 4K HD video at about 360fps.
Amazon needed more processor for 4K TV watching, so they upgraded the chip from Qualcomm Snapdragon to a 64-bit Mediatek quad-core which is about 75% faster.
The Nvidia SHIELD should also take credit with its Tegra X1 processor making it the most powerful/effective streamer around offering a faster performance. Fire TV is the upgraded version of the Fire stick.
Design
It is not too different form its predecessor, but that is no issue. It is smooth and has an exterior shiny enough to fit into even the most moderate of modern living rooms.
Alexa Voice Assistant
Forget Alexa for now, the Fire TV's voice search hasn't changed much over the last few years.
Going through the same process, you speak into the remote's microphone and look up for titles, actors, characters and genres, and the Fire TV is retentive enough to display relevant apps and content.
The voice recognition includes some helpful integration, and it works well with certain apps such as Crackle and HBO Go.
Don't expect Netflix videos to appear in the search results, and the full list of services for a given show or movie is hidden behind a menu button.
One of the main reasons why you should buy the new Fire TV is to get Netflix and Amazon's 4K content on your TV. The set-best box is awesome when used with Amazon Prime services. It is far less expensive and to an extent more capable.
Specifications
2GHz quad-core MediaTek CPU (one running at 2GHz and the other at 1.6GHz)
2GB of RAM
Power VR GX6250 600MHz
MicroSD card slot up to 128GB
8GB of internal storage
USB 2.0 port
Review Price: $88.99
Pros
4K UHD playback and 802.11ac Wi-Fi.
Upgraded graphics and faster CPU.
Prime-driven home screen brings you video without stress.
Sleek and slim design.
Accurate voice control and fast navigation.
Responsive.
Large selection of paid-for content.
Simple UI.
Puts game, apps and video content at the fore.
Cons
4K content is restricted to Amazon and Netflix.
Some codec constraints.
No Netflix content in indexed lists.
Third-party app integration could not hope to compare to Prime.
Non-universal search.
Software buggy and glitchy.
Amazon Prime is an absolute necessity.
[jetpack-related-posts]