8. Parrot AR Drone 2.0 Elite – Most Affordable Drone with Camera in The List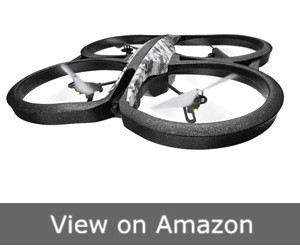 Parrot is one of the oldest in the business of making the drones.
They know their craft well and have uniquely geared their brand with powerful specifications.
This best drone camera is their latest introduction in the segment. It is very much suitable for both flying indoor and outdoor.
One of the coolest features of the drone camera is that you can use the accelerometer technology in operating the drone i.e. you can tilt your mobile device to guide the drone accordingly in the air, joysticks can also be employed for the purpose, thus making it super easy to sail in the air.
One need not worry about the storage space, as the drone has got a slot to fit in the USB storage device thus allowing to store a large amount of video and photo data.
It is very stabilized in recording videos and photos and produce very clear and crisp footages. It has got an automatic takeoff and landing facility.
The range of the drone claimed by the company is 30 m, but mostly it depends on the orientation of the drone, and one could on an average say that 20 m is the approximate range of this drone camera.
Further signal strength is also not very constant, there is a loss in signal as one rotates the drone, or its orientation is changed.
There is one more negative review about this best drone camera is that their app for Android is not updated to match their IOS app, thus depriving Android user to have a smoother flight.
This best drone camera has a huge potential to be one of the best in the segment and also it is not as expensive as compared to the DJI Phantom 3 Standard in the segment, and offers all the features it promises.
The drone camera will be quite handy for the beginners and can use easily with its smooth functionalities.
However, the drone at many points, one needs to adjust the focus of the camera for capturing the required shots and also signal strength is unpredictable.
It is good for people who want to have a try at drone camera and have some fun, not recommended for professional use.
Pros
Great HD footages
USB Port available in drone
Accelerometer style operation
Good flight time
Good For Beginners and Semi Professionals
Cons
The app is not updated for Android users
Signal Strength is unpredictable
Focus needs to be adjusted of camera
[jetpack-related-posts]