Buyer's Guide: How To Choose A Fishing Reel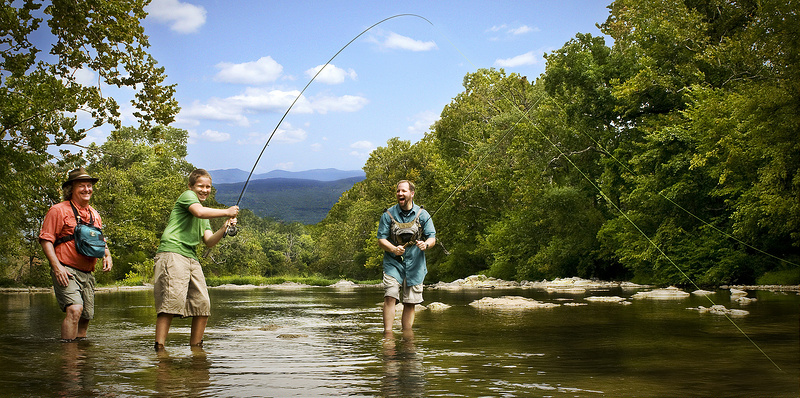 Fishing is an excellent pastime. Many anglers enjoy the outdoors enough that it's still a great time even if they don't catch anything.
Of course, it's always better when you have a whopper of a bass to take home as well! If you're new to the sport, the sheer amount of fishing gear available to you might be overwhelming.
Today we're going to talk about the best fishing reels, and how you can identify them! Not every reel is created equal, and becoming an informed consumer is the first step to building a fishing set up that you can use for the rest of your life and even pass down to your kids.
First, you'll need to figure out what kind of reel you'll want to own. Let's take a look!
Three Main Types of Reels
Spin Cast Fishing Reel
This type of reel is totally enclosed. Your fishing line will come from the tiny hole seated in the top of the housing. These reels are very easy to cast and are a solid choice for beginners or small children.
Be aware that if you're looking for something with a lot of fancy features they may be lacking in these reels due to the nature of the anglers that typically use them. This is more of a beginner reel, and you may find you'll outgrow it rather quickly.
Bait Caster Fishing Reel
A less common and more difficult type of fishing reel: the bait caster is an odd bird that spins when you cast it. While some fishermen enjoy this type of reel, because of the level of accuracy they can achieve in casting it may be very frustrating for a beginner.
If you're a first timer, you may want to hold off on this one. The perk is that it can handle heavy baits and line like a dream.
Spinning Fishing Reel
This is the most popular reel, and the kind you'll find most commonly attached to the already assembled fishing rigs. This reel is versatile, easy to use but still adequate once your casting skill improves.
I prefer these reels myself when fishing. Changing the line on one of these is a breeze as well. The only caveat is that they don't handle heavy duty line very well.
If you're going for the really big fish, you may need to learn to use a bait caster reel. Still, this is one of the best fishing reels if you're looking for a valuable piece of multi-purpose equipment.
When you want to select the best fishing reel, there are certain factors that you need to consider.
Your only focus should not be the budget; you must ensure that you get a reel that adheres to certain standards, this is the only way you will enjoy that great fishing experience.
Here are what to look out for when buying a fishing reel:
Features of Fishing Reel
Reel Body
Reel Size
Gear Ratio
Drag System
Ball Bearings
Spool Construction
Anti-Reverse
When choosing a fishing reel, you should ask yourself what your intended purpose is. Where do you plan to be fishing? What kind of fish are you hoping to catch?
If you're interested in fishing for a fourteen-foot shark, then you're going to need a much different set up than if you just want to angle for bluegill in the neighborhood pond.
The speed and control of your reel can also be an important factor. While this doesn't seem like a big deal at first, it will affect how your lures behave in the water.
If your lure behaves strangely, it may not appear as food for the fish you're targeting, and they could pass it up! A reel that has better control, and is suited to your fishing style will help you perform better.
More for the gear ratio system
Typically a 5:1 gear ratio is considered slow, a 6:1 ratio is considered medium speed, and a 7:1 or higher is considered fast. If you plan to use a lot of crank baits, which are popular for bass fishing a slow gear real is advisable.
A medium ratio is common for top water baits, and a high-speed ratio is more for advanced casting techniques like pitching. As a beginner, I'd recommend the medium speed unless you have a specific goal in mind. You can always add additional reels to your arsenal later if the need arises, and this will be the most multi-purpose.
So, which fishing reel you have decided to go with?