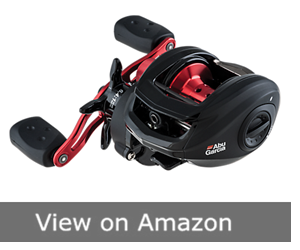 Anytime a fisherman sets out onto the water to fish; the adventure immediately turns into a tug of war between fish and man. So as to be successful in any fishing activity, two basic things are required.
These include an adequate knowledge about fishing so as to maximize your chances of making a big catch, and also the precise and dependable equipment to help in the fishing activity.
The Abu Garcia, Black Max Low Profile Reel, features a durable, and ergonomic design which fishing enthusiasts will always desire. This casting reel comes with four stainless steel ball bearings as well as a roller bearing. This is responsible for providing a smooth operation.
Furthermore, the power disk drag system of this bait casting reel provides constantly smooth drag performance. This casting reel has a drag system which offers the ultimate in a high performance as well as low maintenance bait casting reel equipment.
With this, you can always expect the perfect cast all the time. This casting reel can be used for fishing in both river and lake. You will land a couple of nice sized trout.
Also, The Abu Garcia Black Max Low Profile bait casting reel comes at a cheap price even with the cutting-edge construction quality which is well above average based on the price range. The smooth drag and retrieve of the casting reel make using the reel as easy as can be imagined.
The Magtrax brake System is responsible for providing consistent brake pressure all through the cast. This is a state-of-the-art brake which has a swift, easy to fine-tune dependable centrifugal and magnetic brake system to provide a superior control of casting.
The braking system also works very well once it has been adjusted with respect to the size or weight of the bait.
What's more, this bait casting reel features a Dura gear giving it extended gear life, as well as brass ball bearings that are corrosion resistant for an ultra-smooth casting, and retrieve. The machined aluminum spool offers adequate strength without any need to add additional weight.
Also, in case you will like to clean and lubricate, the Abu Garcia Black Max Low Profile bait casting reel can be easily disassembled. You may need to watch some YouTube videos, though.
Pros:
Ease of Maintenance
Cheap
Durable and Ergonomic Design
Smooth Drag Performance
Superior Control of Casting
Extended Gear Life
Cons:
All in all, this is a fantastic bait casting reel that is simple and easy to operate and maintain.
For spinning reels under 50, please visit another article about Suggesting and Reviewing 3 Reels Under $50 for Beginners.
[jetpack-related-posts]