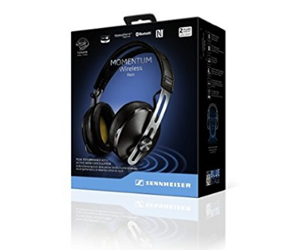 Looking for the best headphone with microphone? Let's check them together!
Headphones are one of those gadgets which people would often keep on their checklist, as it has got a wide range of use for different people.
The most common use being listening to music which in turn is classified into further categories:
some listen to boost their morale
some to get charged up
some to keep them focused on their work and cut out from the outer world
many prefer listening to music while traveling, etc.
Headphones were designed so as people can have their personal space to hear sounds, messages, music, etc. It is indeed personalized and has got a great variety of benefits.
Over the years there have been many developments in the technology of headphones to make it friendlier for the users and give them the best sound possible.
There has been advancement also to make it safer to use. Various companies manufacture their respective headphones and offer different functionalities which are unique to their brand.
Headphones with microphones were introduced much later and have been pivotal in increasing the use of headphones. It allows people to communicate, record their voices and solve their personal and business needs.
Here is a list of top 10 headphones with microphones, including pricelist, battery life, weight, noise cancelling.


1. Bose QuietComfort-35 Wireless Headphones – Best Noise Cancellation Headphone with Microphone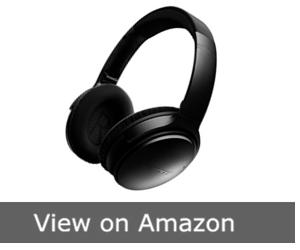 When it comes to the question of noise cancellation technology, there is none other in the market than Bose QuietComfort-35 Wireless Headphones.
It has got a great sound quality and has got very good noise cancellation technology in place. It weighs 8.3 ozs. The battery life is very good, gives 20 hours in wireless mode and 40 hours in wired mode.
The noise cancellation feature is the degree that you almost get detached from the world as it has got one of the best noise cancellation technology, which allows you to completely concentrate on your work if you are listening to the music while working.
Further, you can wear this headphone with the microphone all day and be comfortable with it.
It is made from fine material and is safer to use and operate. The cost involved is worth for the product.
This headphone with microphone has got a very good Bluetooth connectivity with the devices, and it seamlessly allows you to connect to two devices at the same time, therefore giving more choices to operate smoothly.
Moreover, it has got a feature where you can listen to your voice after speaking from the microphone, thus allowing you to keep track of your raised volume while communicating your thoughts in a meeting, also one need not worry about the quality of their voice in this headphone with microphone, as the voice recorded is crystal clear without any unwanted artifacts.
The downside is that the battery is not removable and one would have to shell a great degree of bucks if battery replacement is required. They will have to contact the company directly to obtain the solution.
Further, there is no feature to turn off noise cancellation feature, as not all the time one would require the use of noise cancellation.
Having said that, this headphone with microphone is very expensive to shell out the hard earned money on the headphone is not everybody's choice
Pros
Best Noise cancellation
Comfortable build
Bluetooth connectivity
Listen to your voice
Great microphone voice: Great Battery Life
Cons
Non-removable battery
No Turn Off-Noise Cancellation
Expensive
This headphone with microphone is quite heavier than their previous version
QuietComfort 25
, so if you are not used to with heavy headphones then kindly check on that point.
[jetpack-related-posts]