6. Parrot Zik 3.0 – Best Wireless Charging Headphone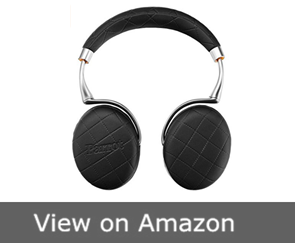 This is one of those headphones with microphone which you can charge wirelessly using Qi charger.
This is one of the most attractive features of this Parrot Zik 3.0. There aren't great visible up gradations from Zik 2.0, but the subtle up gradations are a plus.
This device has got good noise cancellation technology in place, so people who tend to look for this kind of feature can go for it. It is comparable to Bose's Noise cancellation feature.
It is a wireless headphone, which allows you to connect to two devices at the same time thereby increasing the choices to listen and operate.
It has got very cool touch features on the right side of the headset, easy to operate and use. You can operate this device using USB wired cable also.
Battery disappoints as it hardly gives 18 hours audio when operated in wireless mode.
Pros
Wireless Charging
Noise Cancellation
Wireless Bluetooth Audio
Cool Features
Cons
Battery Life
Above average sound quality
It is in the race to compete with the corresponding Bose, Sennheiser headphones with microphone, but it is not able to completely settle its place with them.
A fairly above average product which has great potential to be among the top.
[jetpack-related-posts]