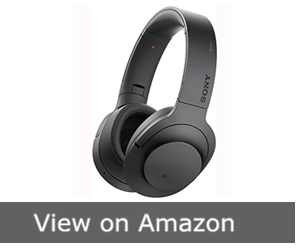 This headset from Sony is probably their best headphone with microphone in the market with noise cancellation feature.
Its noise cancellation is competitive with Bose Quiet 35, and some may grade this headphone more than Bose Quiet 35 in noise cancellation.
It has got an amazing battery life, gives up to 20-25 hours of battery support. This headphone with microphone comes in various eye catchy colors which are very different and unique, owing much to the Sony's legacy of producing some of the finest looking headsets in the world.
This is Sony's best headphone with microphone when it comes to the noise cancellation feature. It completely rules out the external noise, thus providing you with the best-uninterrupted audio.
You also have a feature to turn off the noise cancellation feature, which Bose doesn't have.
Microphone plays a very important feature in headsets, as first of all, it allows you to take calls while doing some work without holding the phone and wireless headphone with microphone enhances that feature to a greater degree.
Sony acknowledges this demand and has very fine quality microphone in this headset. They have provided two microphones, one outside the headset and one inside.
This headphone with microphone is little on the heavier side as compared to the Bose. No doubt Sony is giving world class feature in their headset, from noise cancellation to great audio quality, but it is on a little expensive side.
Pros
Great Battery Support
Aesthetically vibrant
Awesome Noise Cancellation feature
Good Quality Microphone
Sony improves in every department and is slowly touching the noise cancelation of Bose and sound quality of Sennheiser.
Article you may like: Compare the Sony MDR1000X/B and the Sony H. Ear Headphone
[jetpack-related-posts]