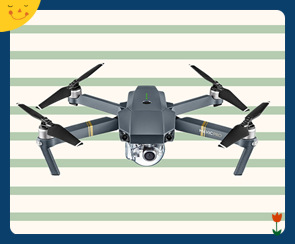 Have you ever dream of flying in the blue sky?
If you got a drone with a camera, and applied the technology of Virtual Reality with it, you dream will come true!
Camera drones have become very popular over the years owing to their extensive wide range of use. Also, you should know that more than half of the best camera drones come from DJI Inc, especially the series of Phantom and Mavic. Recently, DJI release a mini drone called Spark which is also excellent.
They are used in movies, video productions, they find good use in capturing footages of places where it is difficult to reach, in rescue operations, etc.
The main highlight is to use the camera as per your ease by sitting at one place and operating the drone with the remote control.
One may also find it very useful for obtaining video footages with more elegance and stability. They appear very great aesthetically if shot properly.
Here is an exciting VR drone sample from DJI Mavic:
Nature videos, mountain terrain, deep forests, vast deserts all are captured with their essence with the help of Drone Cameras to give the viewer out of the world experience.
Here are the list of 10 best drones reviews, including pricelist, flight time, camera resolution, and the types of controller & display, check out which suits you better.
PS: RC is short for Remote Controller. VR is short for Virtual Reality.
1. DJI Phantom 4 Quadcopter – Greatest Camera Drone For Professional Shoot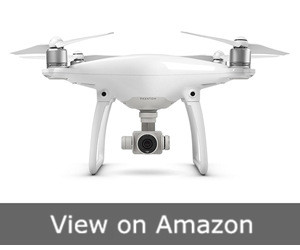 DJI Phantom 4 has an amazing build; it is faster in response which makes it find its place in the top drone cameras.
It has got an follow-me mode as well as the auto takeoff and landing enabled via GPS; there seems no delay in receiving the signal from the controller, which makes it one of the fastest drone in the category.
The images and videos are sharp and clear, which are then easy to color correct in post-production.
At 60 fps 1080P, the images and video footages of lower ground are also stunning with the pictures taken from high above the ground. You can set it to 4K video via the DJI Go App.
It uses Gimbal stabilization technology to give you well stable pictures and footages. So, it has got a rock solid stabilization, which allows professionals to have a better footage without any jitters and shakes, thus making it very useful for them.
This is one of the most automated drones with a camera, which has got great obstacle avoidance feature, which even works well in dim lighting at night and also it has got a variety of features like sports shooting feature where it will showcase its robustness to a greater degree.
Best drone camera is one which solves your purpose, though it is expensive it is worth in its category.
It is a lot faster than DJI Phantom 3, though camera seems similar with minor changes.
The company sells it at many prices depending upon the accessories they offer, but it has got four versions as Phantom 4, Phantom4 PRO, Phantom4 PRO+, Phantom 4 Advanced (you may want to learn more about the difference about the Phantom 4 Pro and the Phantom 4 Advanced). The PRO+ has got an attached display comparing with PRO. By now, the Advanced version is the best.
By paying little extra one can accompany extra batteries, charging Hub, Hard Shell Back Pack, and other related accessories.
The maximum flight speed is 20m/s with flight time mentioned on manual being 28 min, but it hardly goes beyond 20-23 min (with GPS in off state).
The camera quality is not very great if not set to proper fps settings, perhaps the latest iPhone works better in capturing the footages, though HD videos work well for a non-professional, if not set properly then it also yields some degree of chromatic aberration in the center.
Keep in mind to test all the functionalities within seven days of the purchase as DJI has got a seven-day return –replace policy, after which one would find it difficult to obtain proper customer service, this is one of the cons of the product of this company.
In sports mode the speed is high, and it drains out in 15-20 minutes, therefore plan your requirement well in advance and equip yourself well before setting out to shoot and produce.
Pros
Auto takeoff and landing
GPS enabled
High-quality Footages
Rock Solid Stabilization
Obstacle avoidance
Cons
Poor customer support
Expensive
[jetpack-related-posts]