3. DJI Phantom 3 Professional – One of The Best Quadcopter Drone for Stabilized Footages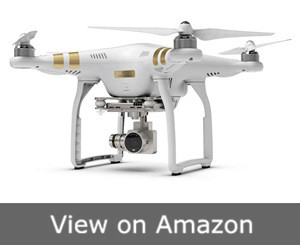 DJI Phantom 3 Professional is one of the most sought best drone camera available in the category.
It records 4k Ultra High Definition videos which are high in quality.
You can record videos up to 30 fps. The videos, images are quite stabilized as it uses three-axis gimbal technology.
It has got vision positioning feature which allows recording footages and images indoor with great stability.
It has also got beginner's mode where a threshold is decided for operation. It weighs 9.2 pounds.
DJI's technology and great design are incomparable with other best drone camera in the segment. Camera quality is quite good. Better than Go Pro camera.
The distortion is almost zero, and video is very smooth thereby allowing the operator to have a streamline video experience.
One can view the 720 P live footage of the flight with other features as battery remaining, altitude, etc. being marked clearly on the device via the app.
Beautiful 4K footages make one completely satisfied with the product. The GPS is quite precise therefore one can track the location precisely, giving extra freedom to record and utilize the best drone camera.
It also allows one to change the settings while the drone is in the air, camera mode and video mode can be easily switched using DJI Go app.
The landing and take-off are very smooth thus minimizing the instances of toppling.
It has got a 12 MP camera and records Ultra HD videos.
DJI is losing its market share on its customer service, as they might have the best technology in the segment, but their customer support is very poor.
Their policies regarding a return, replace are very less customer friendly, and almost everyone complains about it.
Further initial installations are quite frustrating for a novice, as it requires firmware up gradation, and any time a new update comes, one needs to upgrade it and then it takes the time to set things again.
DJI Phantom 3 Professional doesn't have automated obstacle avoidance system, nor can it pin point to the selected place on the map and then track it.
These and some other automated features are provided in DJI Phantom 4, but then you have two shells out an almost double price for it.
One can get this best drone camera at a price close to 1000 dollars with required batteries and stuff, whereas DJI Phantom 4 will cost you 2000 dollars.
Pros
4 K footages at high quality
Great Stabilization and look
3 Axis Gimbal Technology for stabilization
Vision positioning for indoor shooting
Cons
Expensive
No obstacle avoidance
Poor customer support
Cannot point to selected place in the map automatically
[jetpack-related-posts]