6.The Penn Spinfisher V – Best Professional Fishing Reel yet Expensive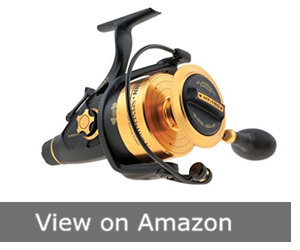 The Penn Spinfisher V that I am introducing to you today has been acclaimed as one of the best saltwater spinning reels.
With Bearings of 5 + 1, sealed HT-100 Slammer Drag System, a full metal Body, side plate, and Techno-Balanced rotor, machined and with Line Capacity Rings, and an instant Anti-Reverse system, this is simply one of the best fishing reels that money has to offer.
Pros:
Ease of use: This fishing reel is easy to use and manipulate, and many customers that left a 5-star review on Amazon testified to its ease of use. To me, this is one of the pole reasons to buy a product; there is no use buying something that will be too complicated for you to use.
Style/Design: According to many people that are currently using the Penn Spinfisher V, the reel is built like a tank. Raymond, a verified buyer on Amazon, reckons that the reel is very smooth and incredibly fine-tuned
Performs well: The Penn Spinfisher V might have a few complains, but it is only a negligible amount of people that have anything negative to say about its performance. With the quality of materials put into use in this reel, it does not come as a surprise that the performance has been certified as top notch by critics and users alike.
Value for money: Like I said in the introductory part of this article, the Penn Spinfisher V is a bit pricey, and if one is just looking to experiment with a little budget fishing reel then it might not be the one for you.
Cons:
It is a bit pricey: I just had to put this as a con because price affects the buying decision of a lot of people. In that sense, the Penn Spinfisher might be too pricey for some people that will like to have a reel of its quality but have little purchasing power.
Waterproof claims are baseless: People have accused Penn of putting out claims that the Penn Spinfisher is waterproof.
A bit heavy: Some users have also pointed out that the Penn Spinfisher V Is a tad bit heavy. This complaint was not too recurring, though, meaning it is not seen as a huge problem.
[jetpack-related-posts]