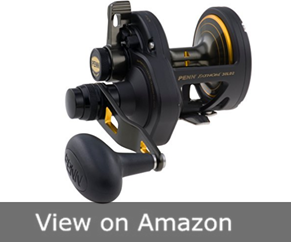 The Penn Fathom Lever Drag 2 Speed Reel is considered to be one of the most recognized and accomplished mega saltwater conventional reel.
There was a lot of anticipation before this reel was released; all of the specs, features and action clips were discussed in lots of forums.
So, why is the Penn Fathom worth all of this glory and recognition? Well, let's find out.
MODELS
The Penn Fathom reel features five different sizes. This gives you the opportunity to select the one that suits your needs and intentions. It also helps with the optimization of your fishing.
There are reel companies that make offshore conventional reels that have few models, and most times, these models won't differ much from each other.
Fortunately, Penn is not a brand that does this. The Penn Fathom features a lot of models, from FTH15LD2 to FTH60LD2. These models will determine the kind of reel a Penn Fathom is.
This mega reel was made to fight against deep sea fishes like marlins and tuna. The bigger the model, the bigger the line capacity and maximum drag. These models from FTH15LD2 down to FTH60LD2 gets heavier and bigger, but their drag ratio falls consequently.
This means that the higher the version, the more fitting they are for bigger and heavier baits that are aimed for much more bigger beasts. This is the reason why the heaviest and strongest model which is the FTH60LD2 has a weight of approximately 27.3 ozs.
The Penn Fathom reel was built to withstand even the largest monsters that Mother Nature can throw at any Fisher. Of course, the cost of the reel depends on the model, which should be understandable.
Pros:
When developing the Penn Fathom, Penn probably had it in mind to make it last longer than other models they had produced, especially in environments that are hazardous to the reel, like saltwater environment. Looking at the Penn Fathom, it seems they did a great job.
Penn equipped the Penn Fathom with its unique Water Tight Design, which has six 9-inches LL (live line) version seals. These seals keep the hazardous saltwater away from the drag system and the gearbox; the drag system on its own is sealed with three HT-100 drag washers.
This feature alone makes it easier for the Penn Fathom to be able to deal with saltwater with no problems, even for longer periods of time. The sealed construction build is the brand feature of Penn Fathom Lever Drag 2 Speed Reel.
You don't need to add any fluorocarbon or mono backing. This is because the rubber gasket holds the super line and keeps it from slipping.
This makes it easier and faster for the spool to get filled up. The reel line lay is impressively even. As a matter of fact, there are expensive models that do not have the kind of precise line lay found in the Penn Fathom.
These rings will notify you immediately of how many lines you have left in the spool, even when you are busy trying to get hold of a fish. There are different rings that will let you know when you have 2/3 or 1/3 of line left on a spool.
FIVE STAINLESS STEEL BEARINGS
These high-quality bearings ensure that the Penn Fathom keeps working with no hassle.
Cons:
The only thing I consider as being negative about this reel is, unlike some of the reels in its class, the Fathom can't be placed on the top of the list when it comes to performance.
In this reel, performance is a secondary factor. People do not purchase this reel because it is not the smoothest reel, , or because you can't cast longer with it, not better than any other reel, or probably because it is equipped with an all-time best drag system.
The Fathom does well in all of the categories mentioned, but it doesn't stand out because of them.
Conclusion
So, if you want a reel that will last a decade, no matter what wear and tear it passes through, then the Penn Fathom is your reel. It is a single investment for any fish hobbyist who is considering serious ocean and sea fishing.
[jetpack-related-posts]