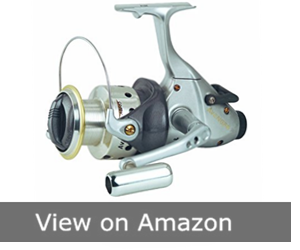 The Okuma Avenger "ABF" bait feeder spinning reel reflects precision and refinement that comes as a result of a decade of research and development.
It is an amazing combo of live line bait feeding system, light weight, medium sized and tournament grade spinning reel. This precision crafted reel is simple, ultra smooth and light weighted. The machined spools are fitted with fine-textured oil-soaked felt washers.
It is designed with 6 sealed ball bearings, for smooth and easy fishing operation.It has an easy-to-reach lever located right behind the handle that disengages the spool and makes the line runs more freely.
It has a rear drag courtesy of the adjustable free spool tension. One of the best things regarding the quality of this product is that it comes along with a multi-disc drag system and an oil-felt drag system.
This provides consistent drag pressure and helps to carry out successful drags under heavy catch.
The reel is designed in a way that a fish picks up the bait without noticing any drag. This help to give more successful catch even if you are not a professional.
Setting the hook is easy; you flip down the bait feeder lever to allow it engage the drag, and the front drag takes over the other actions.
Pros:
Corrosion resistant graphite body
Patented On/Off auto trip bait feeding system
Multi-disk, Japanese-oiled felt drag washers
Precision machine cut brass pinion gear
Rigid, die-cast aluminum handle design
Patented S-Curve Oscillation System
Corrosion resistant, stainless steel bail wire
RESII: Computer balanced rotor equalizing system
Cons:
The plastic joint that holds the reel handle. It is weak and has a tendency to break when fighting with big fish. The plastic part engages a metal toothed part, and obviously, the metal ends up destroying the plastic teeth, which makes the handle useless after the short time.
Also,the bait runner alarm eventually stopped working on the reel after a long time that the fit guard facing the spool is too shallow
The reel squeaks and somewhat "grinds" thereby making some noises. However, this can be overcome by doing some lubrication.
The line wouldn't fill onto spool from edge-to-edge, and the internal shaft is not adjusted for full travel. Spare spool had mold marks that would catch line on edges (180 degrees) apart.
A little oversize of the bail, cause it to occasionally hit the knuckles upon retrieve. Other is that turning the bait feeder on is not consistent. Sometimes the bait feeder doesn't engage.
The Avenger ABF Series of Bait casting Reels are known for providing a combination of affordable value, quality construction, and great performance.
[jetpack-related-posts]