10.Penn Battle II Spinning Reel – Best Fishing Reel for The Money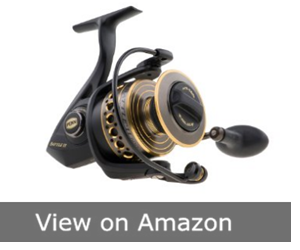 The best fishing real for the money in 2017 is Penn Battle II Spinning Reel!
Without a doubt, Penn Battle II Spinning Reel is one of the most sophisticated, accomplished. This reel was well accepted when it hit the market a few years ago. It was professional and amateur fishermen most darling spinning reel.
Penn Battle II Spinning Reel is an open face reel that comes in eight different sizes. This option helps everybody – both first-timers and experienced fishermen to optimize fishing.
You can easily choose the reel that suits your individual needs and intentions. The manufacturer of this reel ensured they deviate from conventional reel where there is not so much difference among different models.
Penn Battle II has models that range from 1000 to 8000 and so on until the final version. We would have loved to explain each of them, but they are too many, and that won't be reasonable. However, the Penn Battle II is designed as a big game reel to capture deep-sea fishes such as Marlins and Tunas.
Penn Battle II Features
Let's take a look at the features of Penn Battle II and discover what made this reel so special.
It had already developed the fifth version of Penn Battle II with the sole aim of making it last as long as possible especially for use in the unfavourable environment such as saltwater. The company, without a doubt, has done a great job with this version of Penn Battle II.
This version of Penn Battle II comes with six seals which help to keep the unfavorable seawater away from gearbox and drag system.
Other Features of Penn Battle II
Infinite anti-reverse
A thicker heavy-duty aluminum bail wire which adds durability and strength
Improved gear ratios on smaller sizes
Stainless steel main shaft and alloy main gear
Friction trip ramp to helps to prevent premature bail trip when casting
Pros:
Ease of use
Great Design/style
Performs excellently
Comes with strong drag system
High capacity with rings
Braid ready
Great value for the money
High quality
Cons:
[jetpack-related-posts]