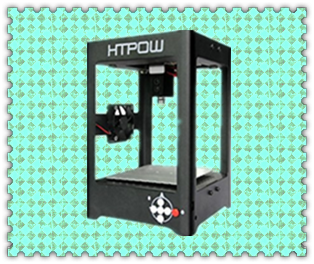 DIY to mark logos on your products? or just want to make some surprise to your lover?
Try the laser engraving machine!
In order to make differentiated products, there are various industries which use the technology of laser engraving.
It is like the designs on wooden keychains, engraving on wine glasses, on various glass utensils, in jewelry designs, etc.
The world is moving forward, and the new ideas and innovations are taking it forward.
Many of the
ideas
which we
implement
today are somehow the twisted versions of the age-old ideas, presented differently on different things to yield a different output.
Engraving, making designs must have come into picture when the people must have been saturated with the simple surfaces, or things.
So, they then started identifying the patterns and started emulating them to various things to produce something very new and unique.
Here are the list of 10 Laser engraving machines, and how they can help a particular individual or business to achieve their goal.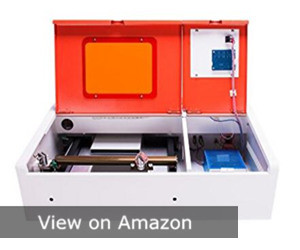 This Laser engraving machine from Orion Laser is good in quality and offers many features which can be used by people as per their requirement.
The dimensions of this machine are 12" * 8", with good resolution up to 1000 dpi.
It got a 40W CO2 Laser for the engraving area of 300 x 200mm. However, you can gain more power with the 50W or 60W laser tube.
This machine is useful in engraving on organic non-metals where you can easily carve out your designs with the help of the included software CorelDraw.
The software is easy to use, and one can learn it very quickly, and it is easy to operate also, and one can design their very designs and then engrave on the selected material with the help of this laser engraving machine.
Engraving is an art which can be learned from practice, so don't be disheartened if things don't go as per your expectations in first go.
It has got 40 W laser tube which can be very finely used on the materials like
acrylic, leather, bamboo, plastic and other organic non-metals
.
The stepping motors are of high quality, and it has a USB port which can connect to your desktop and PC, where in with the help of CorelDraw you can draw the designs, and use them as per your need.
The CorelDraw support various formats such as JPG, EMF, PLT and WMF.
There are various ways to use the laser engraving machine, one of being is where the laser is projected onto the surface and is controlled by the controller, and then the design is carved out on the surface in 2D space.
In another method, the surface is moved, and the laser beam is kept constant to carve out the design with the help of the controller.
Pros
Good resolution
Fair engraving Speed
Inclusion Of CorelDraw Software
Good quality Control
Cons
Software not compatible with Mac
Cannot engrave on Glass
Power of laser is not good for any metal
Top Laser Engraver Machines From the List: