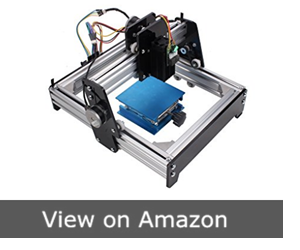 This mini laser engraving machine with 10W laser power is very efficient laser engraving machine.
It has got maximum engraving area of 140*200 mm, with engraving peed ranging from 0.02-0.2 seconds/ pixel.
This machine weighs 2.4 Kgs, which comes with one protective glass.
The machine is super easy to assemble, which just require some screws to mount the laser and some to mount the axis.
Though the software is basic and it can be difficult to operate it in the first attempt.
There is no instruction manual for the software, but you can contact the company directly to have a greater degree of the idea.
The speed of the engraving machine is fairly good, not very fast but it this laser engraving machine has got average laser engraving speed.
There are many catchy features in this 10 W laser engraving machine such as low light positioning, shortest path algorithm, positioning freedom and many others.
This laser engraving machine is capable of engraving Aluminum, Stainless Steel, Iron, Ceramics, Stone, wood, bamboo, leather, plastics, etc.
The software is supported on Windows 7/8/10 and is available in various languages as per one's requirement.
This machine will be very good to use at home and engrave small sector products, but it largely depends on the style of use, and it is advised to practice more and more to find the grip to engrave in the best possible manner.
This laser engraving machine would require input AC 100V-240V, 47Hz-66Hz for operation. The machine is not very heavy with dimensions 28*32*23 cm.
This laser engraver is not very expensive and can engrave light metals.
The laser power is not very large, but one can have the great quality of engraving with this laser engraving machine.
It can be good a laser engraving machine for people who is just starting out in this field and is trying their hands with various laser engraving machines, though the price is high for new comers it is worth the try.
Pros
Good for Beginners and Semi – professionals
10 W CO2 Laser
Good Precision
Engrave materials like Stainless Steel, Aluminum, Bamboo, leather, wood, plastic, acrylic, etc.
USB Communication
Easy installation
Shortest Path Algorithm Used
Cons
Software not up to the mark
Laser power is of intermediate range
Software Not supported on Mac
[jetpack-related-posts]