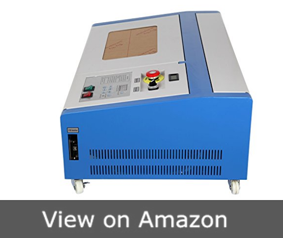 One of the key features of this 40 W CO2 laser engraver machine is that it is equipped with four rotational wheels attached to it so that user is allowed to move the machine where ever he or she may like.
This makes it a great portable laser engraver.
The laser power of this engraving machine is 40 W, with an operational speed in the range of 0-350 mm/s.
The laser engraving area is 300*200 mm.
This laser engraving machine comes with CorelDraw software which allows it to come under the category of laser engravers which have good software associated with them.
Corel Draw has numerous features one would require to design a wide range of images and is very easy to use.
Further, this laser engraver is equipped with Japanese imported mainboard and chip, and German imported bearing thus making it one of the laser engravers which are high in precision.
This laser engraver comes with three-year free warranty and has got low maintenance.
There is a built-in fan inside the laser engraving machine so as to disperse all the heat and the temperature of the machine is maintained, which allows the machine to have a longer life.
There is also an emergency stop switch, thus allowing the user to stop the machine in between if the engraving is not coming as required. There is LED lighting switch also incorporated in the machine.
The communication with the laptop or desktop is via USB port.
The water pump is located on the back side of the machine, and the machine is ready to use as soon as one receives it, all you need is to provide the water source for the laser tube.
Further machine works on wide range of materials from leather, bamboo, acrylic, wood, crystal, anodized aluminum but it is not advised to use it on bare metal, as then machine would be used at full power and there is a risk of burning the machine and engraving is also not up to the mark when it comes to the metal engraving.
Therefore this laser engraving machine is not recommended for engraving metals.
Pros
Good quality Image Engraving
High Precision
Corel Draw as the software
Portable owing to rotary wheels
Low maintenance
Cons
Not recommended for engraving metals
Intermediate Laser power 40 W
No aiming light