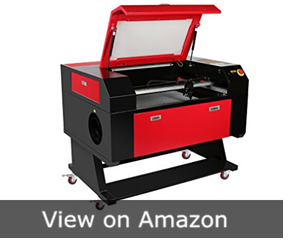 This 59 * 45 * 38 inches laser engraving machine is quite useful in small to intermediate sized industries such as an advertisement, toy making, gifts, etc.
This is a powerful laser engraving machine, which produces high-quality result and is a preferred choice for many.
It has got a fairly good engraving area of 20*28 inches, with 80W CO2 glass sealed laser tube.
One can directly have a CorelDraw output directly to engrave the image on the surface, which makes it super cool to use because CorelDraw gives ample options to design, thus increasing the options for the designers to design their images with great flexibility and at the same time engraving them directly on to the surface.
It also supports CAD, Photoshop, AutoCAD, and Tajima and is equipped with USB interface. Various graphic/image formats are supported by this machine such as JPG, GIF, JPEG, DXF, DST, BMP, etc.
The laser power mentioned for this laser engraving machine is 80W, with maximum scanning accuracy being 1000 DPI.
As most laser engravers use water cooling system to compensate for the heat generated during the process of engraving, this machine also uses water cooling system which can allow the user to use the machine all day long provided he or she keeps track of changing the water regularly.
The net weight of this laser engraving machine is 180 kg, which can easily fit in one small corner of the room.
This laser engraving machine can be used on wood, bamboo, leather, marble, ceramics, crystal, plexiglass, etc.
The machine is very flexible indeed, which is capable of engraving on a wide variety of products; the rotary attachment is capable of adjusting its size for engraving on materials ranging from mugs to flashlights, covering wine glasses and the related materials.
Besides engraving, this laser machine is also capable of laser cutting.
In laser cutting the focal length of the laser focus is large and it tests the strength and power of the machine where as in the engraving the focal length is not so large and the etching does not involve a greater degree of piercing on to the material.
Therefore this laser engraving machine is very helpful for the people who are looking for both laser engraving machine and laser cutting machine.
The quality of finished products in either of the cases is quite good, and it can be used extensively for commercial use.
Pros
Fairly Large Engraving Area
Good quality finished products
Can Engrave Metals, Glass, Wood, Bamboo, Plastic, etc.
Supports CorelDraw and other standardized software.
Easy to use and install
Useful For Commercial Use
Cons
Expensive
Not for Beginners
Ideal for mid-sized businesses.
Little Heavy in size
[jetpack-related-posts]