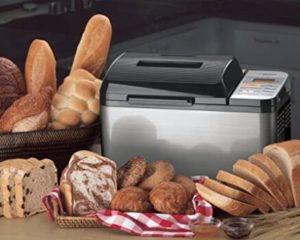 Bread is one of the common foods most people eat, especially for breakfast.
We can toast it and smear it with any jams we like such as strawberry, pineapple, or even peanut butter jelly.
Or, we can turn it into delicious chicken sandwiches for lunch.
Most people usually prefer to buy ready-made bread in a grocery store.
But, why don't you try to make it on your own?
There is nothing better than eating bread which is still warm and crispy.
In the present, baking a loaf of bread is a lot easier thanks to bread maker machine.
There are plenty of them you can choose out there.
To ease your decision in choosing, you can simply check out our seven best bread makers (machines) review.
A Comparing List for the 7 Best Bread Makers (Machines)
| Ranking | Product Name | Bread Size | Delay Timer | Bread Settings |
| --- | --- | --- | --- | --- |
| 7 | Sunbeam 5891 | 1.5/2 lb | 13-hour | 12 |
| 6 | Hamilton 29882 | 1.5/2 lb | 13-hour | 12 |
| 5 | Oster CKSTBRTW20 | 2 lb | 13-hour | 12 |
| 4 | Cuisinart CBK 100 | 1/1.5/2 lb | 13-hour | 12 |
| 3 | T-fal PF311E | 1/1.5/2 lb | 15-hour | 15 |
| 2 | Zojirushi BB CEC20 | 2 lb | 13-hour | 10 |
| 1 | Zojirushi BB PAC20 | 2 lb | 13-hour | 10 |
7. Sunbeam 5891 White – The Most Affordable Breadmaker in This List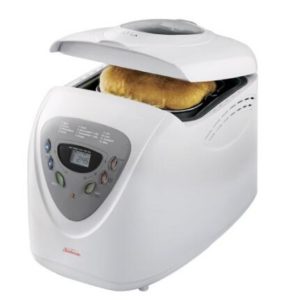 The first good thing about this bread maker is the price. It is quite affordable for people who have a limited budget. Despite being cheap, it still offers you plenty of features. It has 12 bread functions which allow you to make a variety of bread, including basic bread, French bread, or wheat bread. We even can use it to make jam and cake.
If you want to check the baking process, there is no need for you to open the lid. Just sneak a peek through the glass viewing window on it. This machine features 13-hour delay timer. You can make use of it to program the machine, so it will be activated at a certain time. If you set it in the morning, you will wake up to the delicious smell of fresh-baked bread. That will surely save your time.
Is this machine hard to use? The answer is no. It is truly user-friendly that you can immediately apply it once you have learned the manual. Since it has a good durability, you can use this machine for a long period.
We must warn you, though, that this bread maker can be very noisy. Moreover, the size is large which makes it heavy. You can lift it up by using the handgrips on each side.
6. Hamilton 29882 Beach Programmable Bread Machine – One of the Best Bread Maker with Gluten Free Setting with The Best Price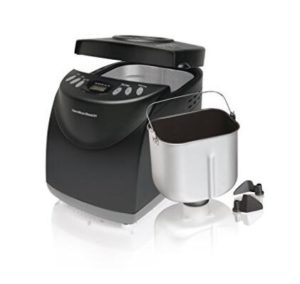 This is another inexpensive bread maker which you can consider to buy. It is also a perfect choice for beginners as it is easy to operate. About its function, it is quite similar with Sunbeam 5981. Both of them have 12 program cycles to make variant bread. It also has a viewing window and delay timer. And, both machines can make 1.5-lb and 2-lb loaves of bread. Also, It got the gluten free setting function.
The only difference between them is the kneading paddles. In Hamilton, the paddles are removable. It also includes the spare ones in case the first ones are broken or missing. The bread pan in this machine uses a non-stick coating. It aims to prevent the bread sticks to the surface. As a result, you will have no trouble in cleaning it.
Since this is a cheap machine, it does not use the highest quality for the construction. You may not be able to see the inside clearly because of the steam fogging up the window. It also has no audible signal to remind you to take off the kneading paddles before baking.
5. Oster CKSTBRTW20 2-Pound Expressbake – One of The Best Auto Bread Maker Machine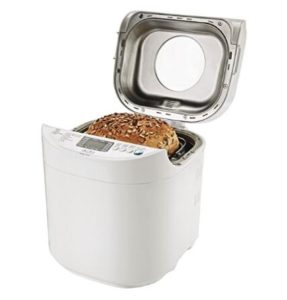 Some of you may not be familiar with Oster. It is because this brand is often overshadowed by other more popular brands. However, you need to know that it has been producing a lot of quality products. One of them is Oster Expressbake bread maker (CKSTBRTW20), which is one of the best auto bread maker machine with a high price / performance ratio.
It is a top-quality bread machine with such a low price. This machine can make 2-pound loaves of bread in classic horizontal shape. It also has some amazing practical features like other machines.
Both of the kneading paddle and bread pans are removable. More about the paddle, there is no signal to tell you removing it. So, you must do it manually before baking. But, in our opinion, it is better to simply let it bake the loaf. In contrast, it has an audible signal which tells you to add some extra ingredients like nuts and fruits.
The power suddenly goes off during the baking process? Do no worry because this machine has a 6-minute memory function. If the power is back on in less than 6 minutes, it will continue the process with the current program. Otherwise, you have to start it over again.
4. Cuisinart CBK-100 – One of One of the Best Mini Bread Machine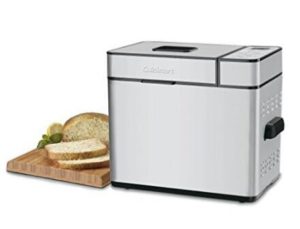 Are you running a healthy life at the moment? Then this is one of the best options of bread maker you can go with. It is a perfect machine to make gluten-free bread. Moreover, this machine is very easy to use. You only need to measure the ingredients, switch it on, wait for a couple of hours, and done.
There are several features you can enjoy from this bread maker. One of them is the notification. It will remind you whenever the time to add some extra ingredients comes. If there is a power outage, it will remember its last program as long as it takes less than 15 minutes.
It can  give you a loaf of bread menu option from 1 pound to 2 pound. If you are making bread for one person only, this will be a good choice.
3. T-fal PF311E ActiBread – The Automatic Bread Maker with Most Programmable Settings Options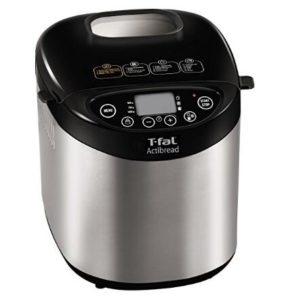 This machine almost has all the standards in making bread. One of the features is 15 programmable menu settings, which is the best in this list. The settings already include a gluten-free menu. Compared to the other products with same menu setting, this one is a bit more pricey. The price may come with better quality.
There are two choices you can select in making gluten-free bread, which is salty and sweet. It has three different loaf sizes (1 pound, 1.5 pounds, and 2 pounds) to pick. What kind of crust do you like your bread? You can set it to light, medium, or dark. If you do not want to eat your bread right away, you can keep it warm with its 1-hour warm function.
Although it is one amazing machine, it still has a couple of things to get improved. First, it does not have a dispenser for fruits and nuts. Second, the bread pan has a vertical shape. So, your bread will not be like the typical ones you usually buy in the bakery. But, these should not be a big problem. It is still a good product to try.
2. Zojirushi BB-CEC20 Home Bakery Supreme – The Best Breadmaker for Banana Bread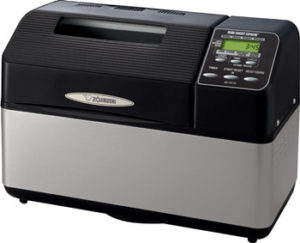 Do you want to save time and energy in making a loaf of bread? Then this is the bread maker to buy. It has both functions as mixer and baker. So, this machine can make the dough as well as bake it at the same time for you. It is expensive, but it makes better bread than other machine. For example, the banana bread, most bread maker can not manage this as well as Zojirushi bread maker.
You only need to attach the dual mixing paddles into the bread pan. Then, put the required ingredients with perfect measurement. Insert the pan back to the machine, switch it on, and wait. Once it is done, you may enjoy your homemade crispy bread.
You can also make other things with this machine such as pizza dough, jam, meatloaf, cake, and more. But, the best part of the machine is the horizontal pan. Most users love it since it can give them a perfect slice. That shape fits well for making sandwiches.
The machine has multiple options of settings. Nevertheless, it is still easy to operate. The durability is amazing too. It is stable and sturdy. The only things to complain from this maker are its large size and heavy weight.
1. Zojirushi BB-PAC20 Home Bakery Virtuoso – The Best Bread Maker in This List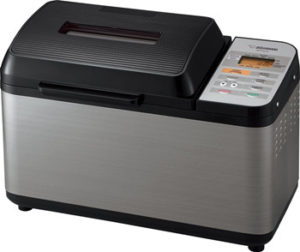 Zojirushi has been producing some great breadmakers. If you need the best one, this is the one you must purchase. It only uses high-quality materials for the construction. By seeing the design, we already know it is a premium bread machine. So, you may expect it to have a lot of features.
By using this machine, you can make a large 2-pound bread with a traditional rectangular shape. There are three memory settings you can set up. To bake the bread more evenly, you can use the additional heater on the lid. The menu settings offer you a wide range of baking like basic bread, gluten-free bread, wheat bread, pizza dough, cake, jam, etc. The control panel is easy to read. So, you should not have a problem in operating the machine. Afterall, people with all baking levels can use this machine.
The other good things we love from the bread maker are that it runs quietly and allows you to use unusual flours and organic ingredients. Meanwhile, the bad sides are no option for loaf size and its big size. This cost is quite expensive too, but that is still reasonable considering the features it has.
---
As you can see from this seven best bread makers (machines) review, baking bread is now a simple task to do. Whichever machine you choose, you can make delicious bread while saving time and effort.