2. Sennheiser Momentum 2.0 Wireless – Best Sound Quality Headphone in This List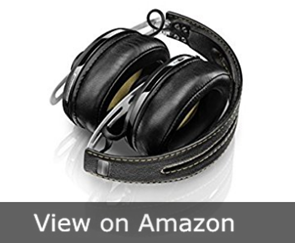 This headphone with microphone is a favorite of many people owing to the awesome sound quality they provide.
People, who are in the business of appreciating every instrument used in the music, prefer this headphone with a microphone as it has got an amazing sound quality.
It weighs 9.12 ozs, and the new Sennheiser Momentum 2.0 Headphone with microphone fit in well with ears as they now have ear cups which fit in well on ears as compared to their previous version.
The designers have taken serious consideration of the reviews of the people and improved considerably in that regard.
It has got pretty well wireless range, up to 33 feet and the connection is very steady. This allows an individual to independently roam around in the room with headphones in the ear and listen to the music at his ease. This headphone with microphone is probably the best in the segment when it comes to the actual quality of the sound.
They have the largest spectrum, as it makes you hear every possible instrument being played in the music, provided you are knowledgeable enough to identify them else you can just sit back and enjoy the music with its rich, fulfilling sound.
This headphone with microphone gives 22-hour battery life in wireless mode, which is pretty decent. Long battery life allows one to depend freely on this headset, as it solves many purposes.
It saves time and allows being flexible enough with the device. Further, the microphone quality is just awesome; it makes you hear your voice also so that you can track whether your voice is getting too loud or not. Clear and crispier voice quality, which doesn't allow much interference from outside noises.
This headphone with a microphone has got amazing noise cancellation feature, which doesn't let outside noises or voices to interfere with your music or sound.
The noise cancellation feature is appreciable but not as great as compared to Bose QuietComfort-35.
It is quite expensive, though it delivers its promises and provides great audio experience it is on the expensive side, which makes people go in two thoughts before buying it. The great music enthusiasts or professionals do use it to be the best in business.
The noise cancellation technology works well with this device, but there is not any provision to turn it off.
As not every time people would appreciate noise cancellation, there are times when it is not required, but the headphone with microphone doesn't incorporate that level of flexibility.
Though there is a considerable improvement in its design with the previous version but still it is slightly less comfortable than Bose.
Pros
Good wireless range
Great Spectrum of Sound
Great Battery Life
Great Microphone
Noise cancellation
Cons
Quite expensive
No Turning off Noise Cancellation
Heavier on the head
The look of this headphone with microphone is more on vintage side, and it lacks behind with Bose on Noise Cancellation, but it covers up by providing awesome sound quality.
[jetpack-related-posts]