3. Sony MDR-1000X/B  – Best Design With The Most Headphone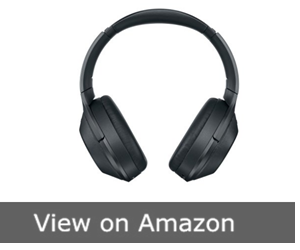 When it comes to Sony, your expectations automatically rises, and Sony doesn't disappoint with this Headphone with microphone.
The best in design and look and also providing best sound quality with good noise cancellation technology in place, this wireless headphone with microphone is on the list of every buyer.
Sony is running fast to beat its competitors. Therefore it is the only headphone in the segment to provide with the adaptive noise cancellation feature.
It implies that you can operate this headphone with microphone either in full noise cancellation mode where you will not be able to hear external noises.
Or, you can operate in another mode where you can listen to the fair amount of outside chit chat.
This headphone with microphone provides great battery life, up to 20 hours in wireless mode and the sound quality does not reduce even in low battery.
The catching thing in Sony is that they have great design and in this headphone, they have amazing touch buttons on the left side of the headset where you can just
swipe either side to operate or change track
.
This feature is quite handy when it comes to automating things, and Sony has never disappointed in this department.
Sony claims that this new headphone with microphone has digital enhancement feature where in the person will be able to listen to even the compressed voices and sounds.
This Sony Headset is heavier than corresponding Bose and Sennheiser, not to a great degree though but one can consider this feature before making out the choice if one finds this feature to be the deciding factor in selecting the headphone with microphone.

Pros
Ambient Sound Mode
Long Battery Life
Touch buttons
Digital Enhancement feature
Cons
Heavier Headset
Expensive
In comparison to Bose and Sennheiser,
Sony falls in the mid
of the two with noise cancellation technology touching to Bose and also sound quality touching the Sennheiser.
Therefore one can opt for this if he or she wants to experience great sound and good noise cancellation feature.
It is the only headphone with microphone which is giving adaptive noise reduction in this segment.
[jetpack-related-posts]