9. BOSE Quiet Comfort 25 – Best Noise Cancelling Wired Headphone in This List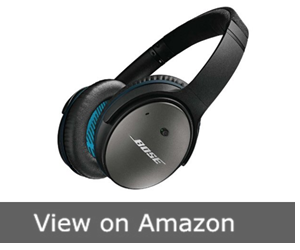 When it comes to Bose, then the most highlighted feature which pops out is their awesome noise cancellation feature, as they have one of the best noise cancellation technology involved.
This headphone with microphone has a detachable cord and is very comfortable to wear, much better than Bose Quiet Comfort 15. The battery life is also very good and is quoted up to 35 hours for noise cancellation.
The sound quality is awesome, and one would expect it to be awesome at this price range, and also from Bose.
The device works very well with Apple devices, and there seems to be some issue with volume and phone buttons when it comes to android and windows.
Once the battery dies out, the listener will be able to hear the music, but the noise cancellation feature will not work then.
Else, noise cancellation feature works superbly awesome, and you are transported into the world of your music even when you are in an airline.
Pros
Great Sound quality
Awesome Noise Cancellation
Comfortable to wear
Good microphone
Detachable cord
Cons
Expensive
Some issue with android and windows device
Sound quality can be scaled up at this price
For the Comparison between QC25 and QC 35, please check here.
[jetpack-related-posts]