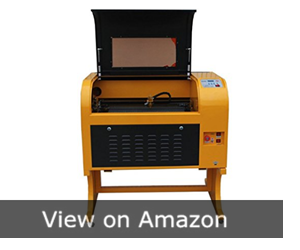 With an engraving area of 40*60 cm, this laser engraving machine is on a little expensive side.
It is equipped with both cutting and engraving features just like the other machines in the segment.
With resolution ratio being 0.026 mm, and capable of USB connection, this laser engraving machine is truly a great choice for engraving the surfaces with good quality engrave.
The laser power of this laser engraving machine is 50 W, and engraving speed lies between 0 -30000 mm/min.
It supports CorelDraw and Winseal XP in the category of software, thus making it as one of those laser engraving machines which is easy to work with.
It has adjustable laser energy and can engrave materials ranging from Acrylic, Plywood, leather, Pape products to PVC, density board, etc. It cannot engrave metals but can engrave the coating of the paint on them.
The engraving depth of this laser engraving machine depends on the power and speed. As with same degree pf power, the lower speed will mark for greater depth of engraving.
Thus one should keep in mind these factors when he or she start to engrave the surface.
The weight of this laser engraving machine is 220 pounds, and one of the key highlighting features of this laser engraving machine is that it has a front end double door which allows material for any length.
The company also offers to provide the user manual, operational instructional video and software as per the requirement of the client, as different countries have different language requirements and have different versions of the software in working.
Therefore this will help the users to understand the mechanism of the laser engraving machine better and will allow them to function easily.
This laser engraving machine also has 60 W, 60 Hz version, which will be of benefit to the users who require that power and frequency to operate.
It has got stepping motors which can heat up the machine, thus also has the provision of water cooling laser tube, to maintain its temperature.
Pros
Both Engraving and Cutting function
Strong and Steady
Capable of engraving wide range of material
Good Engraving speed
Great Software, Operation Manual support
Cons
Cannot engrave metals
Quite expensive
Heavier in size
[jetpack-related-posts]