7.KastKing Summer Spinning Reel – Best Spinning Reels for Small Size Fish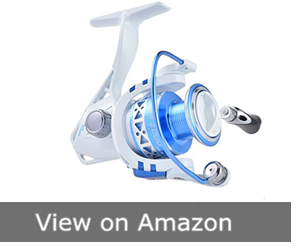 Selecting an ultralight reel or spinning reel for small size fish might be a great idea if you are a casual fisherman. They are easily portable, and you can bring them along with you on your weekend trips.
A spinning reel is considered small if it weighs less than eight ounces. These lightweight reels make fishing all day possible. You need not worry from a strain which may develop as a result of using heavier reels. These small fishing reels are often used for small fishes or trout.
If you are in search for the best small reel, the KastKing Summer Spinning Reel is a great choice for you. With a weight of 5.5ozs, this lightweight fishing reel comes with lots of amazing features. This is a smooth reel. With the KastKing Summer Spinning Reel, any angler will instantly turn into a pro.
Furthermore, the Superior Drag System of the KastKing Summer spinning reel provides unbelievable stopping power of about 20 lbs. The reel features a hardened metal main shaft.
It also comes with a perfect mesh drive gear as well as precision machined pinion gear. All these makes it possible for the reel to overcome any power or strength thrown against the reel by the fish.
Also, all the components were manufactured using non-corrosive materials like aluminum and graphite. You can use it to fish both in fresh and salt water. Also, the performance is smooth.
The reel features Summer's nine quality ball bearings, as well as an instant, stop one-way anti-reverse bearing. This is responsible for its ultra-smooth performance. The foldable handle drives straight through the main gear putting you in charge.
Pros:
It is lightweight.
Highly durable.
Suitable for both freshwater and saltwater fishing.
Super smooth when casting and retrieving.
High performance with up to 20LB of drag.
Has a push button folding handle.
Cons:
Not ideal for large fishes.
Even with all the magnificent features loaded in the reel, it comes with a low price. When it comes to small fishing reels, the KastKing Summer Spinning Reel offers the best value for money.
This spinning reel will be a great addition to your collection of fishing equipment.
[jetpack-related-posts]