10. Yunec Q 500 – Top Rated Drone for Semi Professionals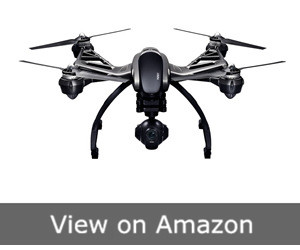 It has integrated 3 –axis precision Gimbal camera which allows it to record videos with full stability, without any jerkiness and loss in picture quality.
It captures 12-megapixel photographs with minimal to zero distortion.
It weighs 2.5 pounds.
It has got impressive 4k HD video quality, recorded smoothly. It hovers quite smoothly in the wind also.
Allowing to capture stable footages in the wind.
The flight time with full charge battery is quoted 27 minutes, but it roughly gives 20-25 minutes depending upon the GPS usage and other features.
The controller has a built-in touchscreen which allows you to see live video recording and photos taken by the drone while flying in the air, and have a hand with other settings of the device. It has CGO 3 camera.
Both beginner and professionals can use this best drone camera as it is easy to use for the first timers and provide footages of professional level.
The customer support of Yunec is quite better than DJI and is on the far greater side. The support is friendly and listens patiently to provide great service.
It is not very fast as compared to Phantom 3 or 4 as it has lesser FPV range compared to DJI Phantom upgrades.
Pros
4k HD video quality
Hovers smoothly in wind
Good flight time
Good for beginners and Professionals
Satisfactory Customer Support
Cons
Less FPV range
Not very fast
The use of Drone camera depends on the intent of using it, different drone cameras solve different purposes and one needs to find a great trade off in their choices to select the best drone camera for them.
Overall Drone videos are of great delight as they make the viewer experience videos and photos from an entirely new perspective and space which aesthetically quite beautiful and add a new dimension to the footage.
[jetpack-related-posts]