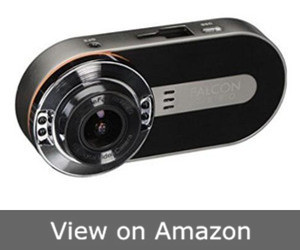 The saying of putting your money where your mouth is becomes clear inThe FalconZero F170HD+.
Its features include auto record as the vehicle is powered on. It also shuts off when the vehicle is powered off. It offers both GPS software and a GPS module that enable the viewer to see the footage alongside coordinates and speed. The presence of the Motion and G-sensor make the camera sensitive to any movement or collision. Hoffer's loop recording of 3-10 minute intervals.

Pros
Easy Installation
Auto record meaning no buttons has to be pushed to power it on or off.
GPS that enables the driver track past routes and check for date and time.
The gravity sensor is sensitive to jolts and vibrations thereby locking down any video footage to avoid it being overwritten by the loop feature.
It turns on if there is any movement within 30 feet of it.
Even when the car is turned off, the presence of parking security ensures the camera still functions.
The 170 degree wide angles ensure that the multilayer lens does not miss a thing.
The HD photo offers up to 12 megapixels
The 2.7 inch LCD is big enough to capture footage and small enough to be discreet.
Cons
In extreme temperatures, the Falcon Zero F170 does not perform thereby making most of its admirable features redundant.
The metal body means that it can get very hot during the summer period, so caution has to be exercised when in contact with it.
The LED is hard to see when driving at night
The power connector has a trip issue.
This dash cam makes it to the top 10 because it gives users value for their money while offering peace of mind with its generous features. The five-year warranty by the manufacturers showcases the faith they have in their product of it being able to stand the test of time.
[jetpack-related-posts]