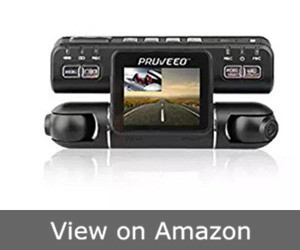 This dash cam happens to be another affordable option for the cash-strapped individual.
With a price of under $50, it offers the 720p resolution in the AVI format. The full glass lens is 240 degrees (120 degrees each), and with the adjustable eyes, it can manage up to 320 degrees.
It also comes armed with the accident auto detection feature included in its G-Sensor. The light weight of 1.8 pounds ensures that it does not take up much space and can fit even the narrowest of spaces.

Pros
The slim design makes it easier for installation and minimizes the amount of space it takes up.
Most dash cams can only view either the front or back but the PRUVEEO has two built-in cameras to record different angles at the same time.
A majority of its appeal comes from the fact that it provides a lot of good features at an affordable price.
Has a detailed manual that explains how to utilize most of its features
Installation and setup are very easy, and the camera is easily adjustable making it easier to record at varying angles.
Video recorded during the night has a sharp clarity.

Cons
It interferes with the radio signal if put into use alongside the radio. This might be as a result of both the dash cam and the radio making use of close connection portals.
The built-in storage is minimal hence the need for a micro SD card, but unfortunately, this has to be acquired separately.
The audio playback of the camera comes out as being distorted.
The camera is prone to constant looping meaning videos have to be regularly saved to avoid losing any important information.
This camera makes it to the list because it possesses the important feature of having dual cameras which provide video footage for both the rear and front view of the car. Most cameras that go for higher prices cannot offer this feature.
[jetpack-related-posts]