9. BlackSys CF-100 2-Channel – The Discreet High-end Dash Cam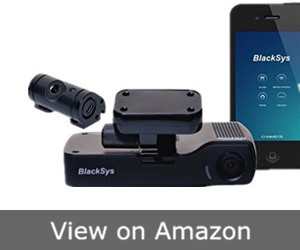 The BlackSys CF-100 2-Channel is the only one with front and rear camera in this list. Although the price is close to 300 bucks without a screen, it still the best of it kind.
With the Wi-Fi connection of its BlackSys Application, you can play real-time video and recorded video on your Android or iOS device, and set the device.
However, it is not easy for a beginner to install and setup.

Pros
Dual camera option was providing both front view and rear view footage.
Video quality can give the higher priced models a run for their money.
Front camera records at a speed of 14mbps with a resolution of 1080p.
It can buffer video even when operating in parking mode.
It uses a capacitor instead of a battery thereby extending its power life span.
An emergency feature prevents videos from being overwritten.
The small size makes it easily overlooked hence the tag of discreet.
Wi-Fi Connection with Android/iOS to Live View, Record Play, and Setting

Cons
Does not have a built-in screen or USB or HDMI port
The rear video quality is penniless compared to that gotten from the front camera,
It is susceptible to overheating, so care has to be taken to protect it from the heat during summer months.
The SD Card has to be updated in line with the latest software by BlackSys
The memory space cannot be fully utilized as the camera withholds about 20% of it.
The dash cam is too sensitive to collision with objects even speed bumps and records them when they happen as files that cannot be overwritten.
The rear camera experiences fish eye problem.
Although The BlackSys CF-100 2CH is not without its problems, its merit lies in the fact that if the above-listed problems can be taken care of by the manufacturer or otherwise ignored by the user, then it is a good dash cam to have on-board your vehicle.
[jetpack-related-posts]