6. KDLINKS DX2 Dash Cam – An Excellent Camera System for the Modern Vehicle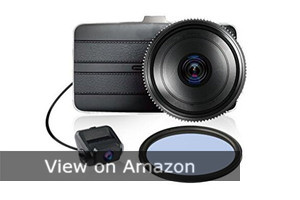 The KDLINKS DX2 is a dual camera dash cam that is aptly built for the modern vehicle to provide useful solution to drivers. Its usefulness far exceeds the recording of the road ahead and behind as it can provide reliably substantial evidence in the event of a crash or any incident on the road.
The DX2 captures good quality footage even in low light situation as the six-glass Nikon lens possesses an impressive maximum aperture of f/1.6 and a highly sensitive ARO330 sensor.
The front camera aims straight out of the wind shield and can record 1080p Full HD video. It also offers an incredible 165 degrees angle of coverage. The rare camera, on the other hand, has an equally impressive angle of coverage of 125 degrees and records 720p HD quality video, and not the normal VGA low resolution footage seen in other cameras.
The DX2 is also equipped with Wide Dynamic Range (WDR) technology that ensures that the widest spectrum of luminosity, from the whitest to the darkest, is picked up by your camera.
KDLINKS DX2 has the loop recording feature. This means that it records continuously until the storage (memory card) is full, then it overwrites older videos with new ones sparing you the need to change memory cards. It also has a memory lock feature.
The Dashcam also has safety feature that include the Emergency Lock Button and Accident Auto Detention feature (G-Sensor) that can lock current video file.
DX2 is a lightweight product designed to exert less pressure on the mounting mechanism in your vehicle. It is a 3.5 X 2 X 1.4 inch device and weighs 5.3 ounces.
Excellent dual angles of coverages
High quality footage
Large memory space
Memory lock to avoid overwriting
CPL filter
Lightweight
Quick-response support team
Cons
No quick settings for driving and parking mode
Lack of GPS
Poor camera battery
[jetpack-related-posts]