7. Hotronix Fusion – Safest Heat Press Machine Built To Last(Made in US)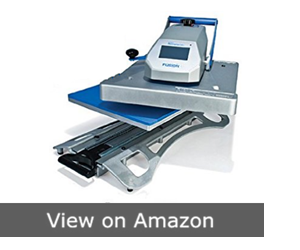 The Hotronix Fusion is a
16×20 inch
heat transfer press machine that is made in the United States and by Stahls' International, out of St. Clair Shores, Michigan.
Stahls' International builds heat printing products and equipment for distribution in over 100 countries on four continents. They are world leaders in proven and patented heat printing and digital technologies.
The beauty of the heat swinger is that the upper platen conveniently swings completely out of the way, giving you a large, heat free work surface.
It has a large, almost indestructible soft-button touch pad with LED display for your setup.
There are ten preset pressing programs, which saves time for many applications. Frequently used settings (time, temperature and pressure) can also be stored.
You can also set it up to turn on and preheat before you come to work and to shut down at the end of the day. The only problem is that you have to program it for seven days, including days you're not there.
A great feature is the interchangeable lower platen option. This is really handy, especially if you're doing a lot of sleeves or bags.
The pressure is set manually, with a convenient knob on top of the control unit. Because it is air controlled, you will also need to have a properly rated air compressor rated for continuous operation.
Also, you should have a separate 20 amp circuit available to plug into for 120-volt operation or a 10 amp circuit for 220 volts.
Safety was an important consideration in the design. To close the press, you must simultaneously press the buttons on either side of the press. This will keep your fingers out of it when pressing! It also has a lighted emergency release button, right beside the keypad.
When pressed, it activates a quick release of the heat platen while in the closed position which automatically returns it to the up position. When reactivated, it goes back to the previous work position.
At the price this unit retails for, there are no downsides, when properly set up and used as intended. It will give many years of excellent service.
[jetpack-related-posts]