9. DELIXI Mega – Biggest and Fastest Heat Press Machine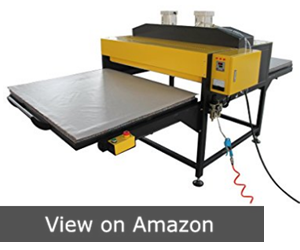 The Delixi Mega large format heat press is pneumatically powered and come in a 220v and 380v, with the size of the double-working table sold at a variety of sizes from 31'-39' to 39' by 47'.
This machine is capable of printing on a wide variety of items including sheet metal but is mostly used on knit-woven materials with t-shirts being the most popular item.
The Delixi Mega weighs just under 250 lbs., is neatly-wired and has an array of features that are both efficient and safe, including:
Automatic Master Power switch cut-off if a circuit is shorted
Real time voltage display
The controller features a digital display allowing easy operation
An emergency push button for operator safety
Equipped with universal pulleys making it easily moveable
Working table sits on a rail like track
Adjustable air pressure
This top-of-the-line piece of machinery comes standard with a 2-year warranty covering all parts except those expected to wear and shipping time to the US is an expected 4-8 week.
Overall, the Delixi Mega is the perfect tool for a company in the advertising industry.
Its safety features and straight-forward operating system and durability make it the go-to press for anyone in need of turning out hundreds of high-quality designs on some different materials.
[jetpack-related-posts]