10. PowerPress – Best Heat Press Machine for Small Batch Production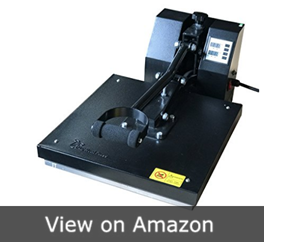 Designed for both home hobbyists and small production graphic companies, the Powerpress is a tough, simple to use tool that pulls its weight when it comes to creating quality t-shirts.
The unit is engineered to provide steady, reliable and constant results while being small enough to be placed anywhere in a craft room or studio.
The variable heat settings range from 0-500 degrees, with optimal results reported at 315 for standard and specialty vinyl applications. This takes into account the varied types of vinyl transfers, from smooth to textured.
Rated the number one heat press machine in sales and service thanks in no small part to its durability and reliance, the unit is also listed with the best price against any competition.
All around, this is truly the best choice for those requiring reliable heat press applications in both production and user value.
Due in part to the stability the unit creates, it is recommended it be used in place rather than moved from a storage closet to a work surface. The weight that helps to steady the press platform makes it slightly cumbersome for moving about, but placing it in a semi-permanent location will alleviate this issue.
For best results, press clothing items cleanly before using an application to remove moisture and wrinkles- this will strengthen the presses ability to create a permanent bond with the material.
Pros
Heat/temperature range from 0 – 500 degrees to accommodate varied materials
Timing from 0 – 999 s for varied application elements including sparkles, ripples and such
Coated 15"x15" sheet included with unit
Standard voltage for home and office use
Precise set up for time and heat application
Gel based pressure plate for ease
Cons
Not suitable for larger banner projects
The weight makes it difficult to move from storage to working surface
[jetpack-related-posts]