With the array of options available in the fishing section of big stores, making a choice of what kind of reel to purchase, especially for the beginner angler is a somewhat difficult process. Considering the fact that the fishing reel is definitely one of the most important fishing instruments, making the right choice is central to a great angling experience.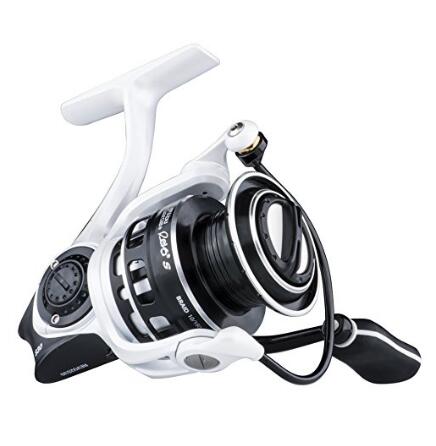 Spinning reels are probably the most popular kinds of reels. They are ideal for catching small to medium sized fish. Spinning reels come with a fixed spool located underneath the rod and the line is drawn out by the weight of the lure.
The main advantage of fishing reels lies in their versatility. They are suitable for a variety of fishing styles and different kinds of lures may be used, although they are particularly useful with light lures. Spinning reels are the ideal fishing reels for beginner anglers. Depending on the angler's dominant hand, the fishing rod is held in the dominant hand and the crank handle held with the other hand.
Three Examples of Spinning Reels
Shimano Stradic C14+
Precision and refined performance in all aspects are what you get from using this high-end spinning reel. Constructed from carbon fiber, the reel boasts excellent strength while still maintaining a reasonable weight, making it ideal for light saltwater fishing. Its ultra-smooth drag serves to make every fishing experience memorable.
Pfeulger Supreme XT
Combining performance and affordability, the Pfeulger Supreme XT is the ideal spinning reel for anglers who want high quality reels but are low on budget. Magnesium and Carbon fiber are the dominant materials used in its construction, giving the reel light weight and durability. What more? Positive reviews abound for this reel indicating that the fishing experience matches the apparent quality.
Abu Garcia Revo S
Abu Garcia is known to produce quality reels and this reel doesn't disappoint a bit. Carbon fiber is the dominant material for construction ensuring lightweight and corrosion resistance.  The reel boasts High Performance Corrosion Resistant bearing, providing a smooth angling experience. The lightweight ensures angling doesn't become a burden.
In the market today, these reels are considered as some of the best spinning reels. Why not try them out and see for yourself what you have been missing so for. These spinning reels will definitely take your fishing experience from ordinary to extraordinary.