The Best Home and Industrial Sewing Machines in 2017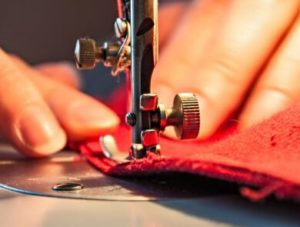 Talking about hobbies, there are many things that people like to do. Not only that, they also tend to create their own activity to fulfill their needs. When we are thinking about hobbies, usually will be about the activities we like the most which also can give us the best quality results after spending time doing it. Sewing is also one of the most popular hobbies that many people choose as their hobby. With that it is a must that they get reliable sources of information about equipment they need to get to sew. Of course you need to know where to look at the reliable information and also what kind of sewing machines that you should buy. There are several things that you need to consider about choosing the right sewing machine. The first thing will be about the quality materials and also the specification that you need to read carefully. By knowing the best quality specification for sewing machine you will be able to find the best machine to support you in doing your hobby. There are also many kinds of products that we can make from sewing using machines. To know more about types of sewing machines, below is complete review about many kinds of machines you can take a look and choose the right one. If you are working at home, you may need to install an extra baby lock for the sewing machine.
The product of sewing machines is plenty with various shape and functions. The choosing of the suitable machine will be about the purpose of purchasing one of those. When you know why you need sewing machines then you have to know the detail information about specification and also the instruction of the machine. There are many people who like to buy based on the price only, but actually by considering the specification you will get the most suitable machine that will give the smooth run and also easy to control machine. The reviews about several products will give us the knowledge about what kind of sewing machine you want to buy. Read carefully about the specifications and read the review and compare it with the price you have to pay.
Best Sewing Machines List
Comparing  with Price, Built-In Stitches + Embroideries, Threads and One-Step Buttonholes.
| Ranking | Product Name | Price | Built-In Stitches + Embroideries | Threads | One-Step Buttonholes | |
| --- | --- | --- | --- | --- | --- | --- |
| 10 | Brother XR9500PRW | $122 | 140+0 | 1 | 8 | |
| 9 | SINGER 4411 | $153 | 11+0 | 1 | N/A | |
| 8 | Brother cs6000i | $153 | 60+0 | 1 | 7 | |
| 7 | Brother 1034D | $164 | 22+0 | 3/4 | N/A | |
| 6 | SINGER 4423 | $139 | 23+0 | 1 | 1 | |
| 5 | Brother SE400 | $308 | 67+70 | 1 | 10 | |
| 4 | JUKI MO654DE | $353 | 7+0 | 2/3/4 | N/A | |
| 3 | SINGER 9960 | $351 | 600+0 | 1 | 13 | |
| 2 | Janome HD3000 | $429 | 18+0 | 1 | 1 | |
| 1 | Brother LB-6800PRW | $698 | 67+70 | 1 | 10 | |
10. Brother XR9500PRW Project Runway Limited Edition – Hot Sale Sewing Machine with High-Quality in Amazon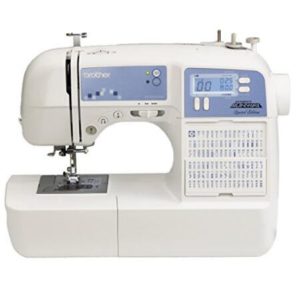 The best product from Brother offers you the complete features of simple and strong sewing machine with built in features. It is one of the most hot sale sewing machine in Amazon now. You can get this model with an affordable price. This sewing machine will give you the ability to create creative shape of sewing and get the details you want to add on the products you make. The price is reasonable since you get the features of zig zag sewing and also the easy control for the sewing result. The various types of threads will be able to apply in it with many types of shape you can make. When deciding to buy this product you need to know about the instruction you need to follow. You can also get the 100 built-in utility and accessories included in the package and there also be some additional parts of the machine that you can put on and off based on your needs with extra large table for quilting.
9. SINGER 4411 Heavy Duty Sewing Machine – The Best Mini Sewing Machine with High-Speed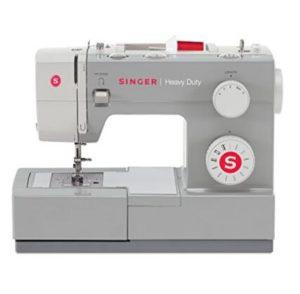 Singer also comes with modern and great features of sewing machine. It is the best mini sewing machine model of Singer, which also got a high sewing speed. This type of machine usually used for professional production with many professional features support. The speed is amazing and enables you to produce much more sewing's in a minute. When talking about fast and strong machine you can consider buying it to get Stainless Steel Bed Plate. With this machine you can open your own business in sewing clothes and other attire. Buy two or more then you can produce a bunch of clothes in a day. You can also get a cover to protect the machine from dirt and the clear cover also makes it becomes the useful decoration in your living room.
8. Brother cs6000i Sewing Machine with Wide Table – The Best Beginner Sewing Machine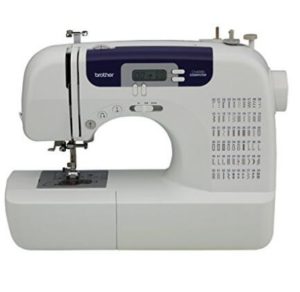 This Brother cs6000i is the best model for beginner, with 60 built-in stitches designs and  7 one-step buttonholes. When talking about best material you can always depend on Brother. In the manual of this machine you can have the bilingual notes and there will be the details that you need in installing the machine and how you have to use it. The features are complete with additional accessories that will help you creating the best quality product with machine. In this sewing machine you will find many parts in modern control system with many types of buttons that you can use in setting the machine to be used as the media creating creative and unique thing. The high speed and also strong materials will help you maintaining your time well by knowing the duration that you need in producing certain kind of sewing products. People are wondering about the best brand that you should get about buying sewing machine and you can always make sure that you read the detail review about that type of machine to get the Jam-resistant features and also bonuses which will be very useful. The product that you make with this machine will be smooth with beautiful sewing and also strong materials of thread.
7. Brother 1034D 3/4 Thread Serger – The Serger Sewing Machine with Most Built-In Stitches Designs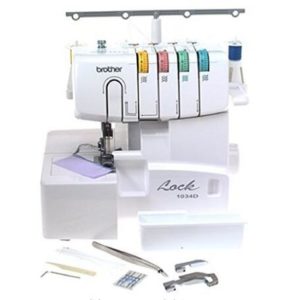 The best machine that we can get will be about Brother and the additional features that you do not want to miss. This kind of sewing machine is very popular these days because it makes you easier to produce the best quality materials that you need. The Brother 1034D 3/4 Thread Serger Machine has the most built-in stitches designs in this list. When talking about the best materials you can depend on this machine with fast and high speed sewing and also the high performance in creating neat and strong sewing for 1,100 stitches per minute. There are many places that you can visit to browse this product so you can start know and choose the best suitable sewing machine that you can use to produce. This type of machine is used in the industrial field because the features are complete and give many easy controls to get the colors that you need to apply. In browsing the right type of sewing machine you can browse the strong type with many additional useful items for the machine.
6. SINGER 4423 Heavy Duty – The Most Reliable Commercial Sewing Machine With Extra-High Sewing Speed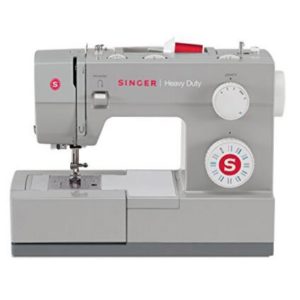 The comfortable sewing machine is important because there are many people who want to make their own attire and other types of creative production at home. So, this SINGER 4423 model is the best for commercial using, you will feel less tired when you are working. When people are comfortable they can make everything instantly. In the website there are many sewing machines that you can take a look the details to make sure you need this kind of machine to buy. This machine from Singer is coming with complete feature where you can use it as the supportive equipments you need to produce some material products. This machine is completed with 23 built-in stitches: 6 basic stitches, 4 stretch stitches, 12 decorative stitches, 1 Buttonhole. That will enable you to make the shape as you want with high quality of the sewing. Many people like to use this machine because the complete features and also the easy use of the needle. In this machine package you will find decorative items you can use as the additional ornaments for your clothes and other production things. Do not worry about the price because although it offers complete features you just need to pay at reasonable price.
5. Brother SE400 Combination Computerized Sewing – One of The Best Sewing and Embroidery Machine
If you are looking for an affordable Sewing and Embroidery Machine, you will love the check up this Brother SE400. Brother comes again with high quality sewing machine with complete features and strong materials. It is believed that Brother always comes with innovation with latest technology to make the machine. This brand is famous in the world because it can be used as the production equipments because it can produce many items in a short time with fully automatic 1-step Buttonhole. Only with low price you can get this machine and use the best materials as the additional features and control buttons. High technology is also helpful because you can always control the result of the sewing with the high technology.
4. JUKI MO654DE Portable Thread Serger Sewing Machine – The Best Serger Machine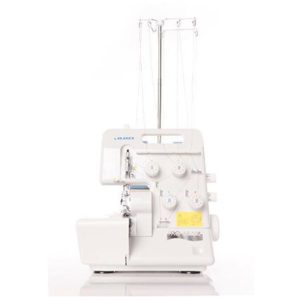 The JUKI MO654DE has a very simple design with only 7 built-in stitches and 3 types of threads (2/3/4). This model is considered as the best serger machine in this list. New era of technology is also coming with One-touch automatic thread cutter. Knowing that the tailor world is also developing then the sewing machine should be improved also. With the latest technology you can find that the sewing machine also comes with high technology control with easy access. The new technology that applied in this machine is also high quality and the portable type is also making it easier for you to carry it everywhere you like. The light weighted machine is really useful for people who travel. While travelling, you can also spend some time in creative unique items with this high quality machine.
3. SINGER 9960 Quantum Stylist Sewing Machine – The Best Industrial Sewing Machine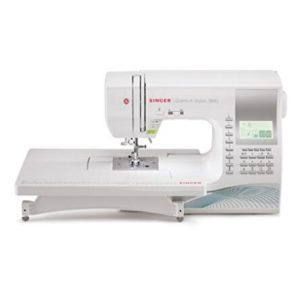 The complete features of sewing machine is now also comes with the ability to be controlled digitalized. This new type of sewing machine is also great to be used as personal usage or for the production technology. With the features that enable you to connect with the machine automatically you can also make sure that the shape that you get from the sewing is also suitable with the previous design. The Singer 9960 is the best industrial sewing machine offering 600 built-in stitches; 13 fully automatic 1-step buttonholes; exclusive Buttonhole under plate and Safety Switch. Those features will make you produce the items faster than the other type of sewing machine and give you the complete package that you can get by buying this machine and use it as the supportive equipment for your hobby or your business.
2. Janome HD3000 Heavy-Duty Sewing Machine – The Best Portable Sewing Machine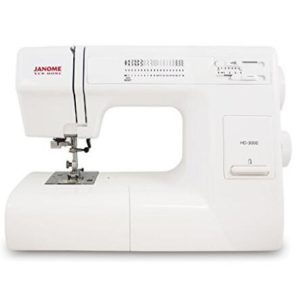 Janome is also producing the best quality sewing machine that will help you producing the best materials and items that will be useful. In producing the best product you need to make sure that the features is complete. The most powerful machine with modern technology is here with complete manual that will give you the complete instruction to use the machine. In the production company this machine is used to help with the time management that can be reduced so that the production will run smoothly on a short time but also in high quality results. Using this machine you will be able to know how to maintain the best quality and make sure that you get the complete 18 stitches, 1 one step buttonhole. Do not forget to read the details of the product and there you will be able to know whether the machine is suitable for your needs.
1. Brother LB-6800PRW Project Runway – The Best Embroidery Sewing Machine
The best product of sewing machine you can get by reading the review about machine produced by Brother. And, the Brother LB-6800PRW is considered as the best Embroidery Sewing Machine in this list. This brand is known by its high quality materials and also strong machine that will be helpful for production and also personal used. The modern and high technology system is used in the machine and that will give the complete features that you need in buying the best quality machine. In choosing the best sewing machine you need to make sure you know the complete review and the detail features that will be useful for you. As for the personal usage you can choose the sewing machine with light and simple machine where you can use the machine easily with easy control and technology manual. So, it is important to make sure about the Built-In USB Port features and also the details of the machine before buying one because you need to know about the use of the machine before you decide to buy. As a conclusion, in deciding the best quality sewing machine you need to follow the information that you need in deciding which one is the best. Star to browse now to get the complete information about sewing machines and let them lead you to the best place where you can also find the best quality sewing machine you need to produce items and use the high quality sewing machine as the equipment.