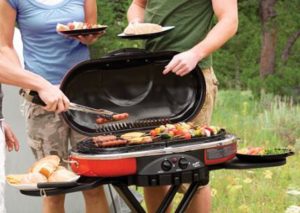 One of the best summer gifts to give anyone is BBQ grills. I can still remember how we celebrated every summer with friends, eating nothing but barbecue and beer. According to the study by the Hearth, Patio & Barbecue Association, 45% of the U.S adults plan to purchase a new grill every summer.
Unfortunately, with so many BBQ grills in the market, it can be very difficult to choose which one to buy. When you go for BBQ shopping, there are endless choices in terms of brands, features, and styles. When it comes to styles, you have to decide whether you need hybrid grills, pellet smokers, gas grills, upright smokers, kamado, rotisserie, Brazilian, Argentinean, kettles, charcoal/wood grills, and more. Indeed, the choice is endless and can drive you crazy. In fact, most people that didn't do research before buying their barbecue grill end up buying a product that doesn't last or work like they expected.
We want to save you the stress of searching endlessly, so we asked users what their favorite barbecue grill are and also talked to experts to tell us their opinion.
We made our choices based on:
Ease of set up
Cooking results
Versatility
Quality of construction
Brand back up
Value for money
Below is the result of our research, you will find the best 10 barbecue grill in the market right now:
Top 10 Best Barbecue Grill List 2017
Ranking

Grill Name

Cooking Area

Fuel

Design

Latest
Price
10
Char-Griller 1515
250 sq/in

Charcoal

Stand


Check

9
Hamilton Beach 25360
150 sq/in

Electric

Tabletop


Check

8
Smoke Hollow 205
305 sq/in

Gas

Stand


Check

7
Cuisinart CGG-180T
(recommended)
145 sq/in

Gas

Tabletop


Check

6
George Foreman GGR50B
240 sq/in

Electric

Stand


Check

5
Weber 741001
363 sq/in

Charcoal

Stand


Check

4
Coleman Road Trip
(recommended)
285 sq/in

Gas

Stand


Check

3
Blackstone 28 inch
470 sq/in

Gas

Stand


Check

2
Blackstone 36 inch
720 sq/in

Gas

Stand


Check

1
Weber 46510001 Spirit E310
(recommended)
424 sq/in

Gas

Stand


Check
10. Char-Griller 1515 Patio Pro Charcoal Grill – The Most Affordable Outdoor BBQ Grill in This List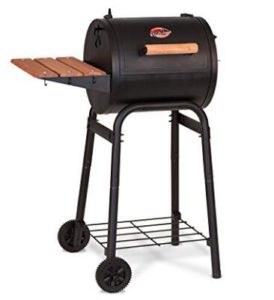 If this is your first time buying a barbecue grill, then you might want to try your hands first on charcoal grill such as Char-Griller 1515.
I love charcoal grill; they make the taste come out. This grill made it to our list because of its excellent cooking result.
Char-Griller is a small charcoal grill for a small family gathering.
It is small, so it is not for a large family. It is perfect when you have a family of 3 or 4.
This grill has so many admirable features; it is very sturdy and sits high off the ground. You don't need to carry it; instead, it comes with wheels that you can use to move it about.
The cooking grate is made of cast iron.
According to the manufacturer, you will need to coat the grate in vegetable oil and fire up to 300 degrees for 2 hours to extend the life of the grate and as well burn off the oil added during the construction.
Char-Griller 1515 Patio Pro Charcoal Grill is perfect grill for a small. It works well and very easy to move around.

9. Hamilton Beach 25360 Flavor Searing Grill – The Best Indoor BBQ Grill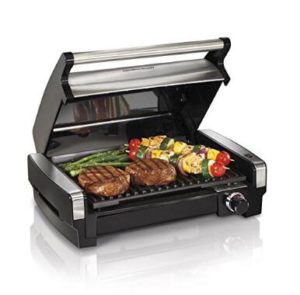 Apart from being one of the most affordable grills in the market right now, there are plenty other reasons why people are speaking highly of this grill.
Hamilton Beach 25360 is an indoor grill like no other.
It comes with adjustable temperature level and wide surface for your grills.
The design is perfect; it is compact and lightweight and won't need a lot of space in your kitchen. In fact, you can actually place it on the counter or stovetop.
The grilling surface is 12-1/2 inches wide and works well for two people.
Hamilton Beach 25360 comes with 11 different temperature settings to help you do a lot of things from searing a steak or chops to keeping items warm until you are ready to serve them.
When you buy this grill, you will be protected with a 1-year guarantee and can return it if there is any defect in material within this period.
No doubt, Hamilton Beach 25360 Indoor Flavor/Searing Grill is one of the best indoor grills 2017. It is compact, strong, and comes with large enough grill surface. The adjustable temperature allows you to get a lot of things done.

8. Smoke Hollow 205 Stainless Steel Tabletop Grill – Best BBQ Grill for Small Family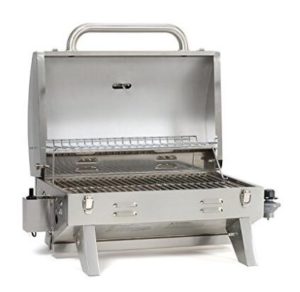 Smoke Hollow 205 follows the recent trend in the manufacturing of barbecue grills.
It is made of stainless steel which means that the unit won't rust anytime soon.
It also comes with features such as east-to-clean design, a double-wall lid, high temperatures of over 500F and an affordable price tag.
It is made to be used both indoors and outdoors and runs on propane gas.
You will certainly be impressed how easily and quickly this grill can reach the optimal grilling temperatures.
Smoke Hollow 205 is among a handful of propane gas grill that can reach 500̊̊F in as little as 5 minutes.
It is perfect for grilling burgers and chicken quickly and thoroughly.
Smoke Hollow 205 can serve a fairly large family of 5 to 7. It can be used both indoors and outdoors, it is easy to clean, reaches the optimal grill temperatures fast, and comes at an affordable price.

7. Cuisinart CGG-180T Petit Gourmet Portable Tabletop Gas Grill – The Best Small BBQ Grill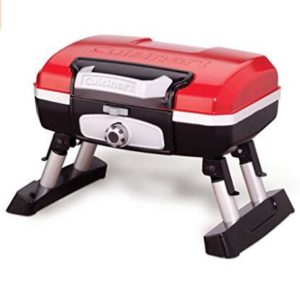 For me, when I hear Cuisinart, quality comes to mind. This portable tabletop gas grill is not only super-quality, it also has an awesome and stylish design and comes at affordable price.
It is perfect for a small family that wants something they can easily move around. Like you may have guessed, it is designed for indoor use. What I love most about this grill is the smart and portable design.
It weighs less than 20lbs which means you can carry it around as you want and also store it effortlessly.
You don't have to use it at tabletop if you don't want to, it comes with a stand with which you can use to set it and use it even outside.
The box comes with the grill, two feet, the cooking grate and drip tray.
Cuisinart CGG-180T Petit Gourmet Portable Tabletop Gas Grill is a portable grill with smart design. It works pretty well and easy to maintain. However, it is made for a very small family of 3 or less.

6. George Foreman GGR50B – The Best Electric BBQ Grill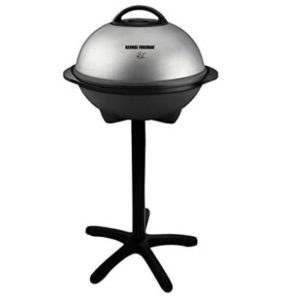 George Foreman GG50B is one of the most beloved grills in Amazon and other online marketplaces. Already, this grill has thousands of users.
The design is what made it amazing. It comes with the pedestal when you want to use it outside.
However, without the pedestal, it becomes an indoor grill.
For so many years now, this grill has remained a George Foreman bestseller.
It comes with a very large cooking surface.
The surface is sloped to allow you drain fat from foods. Moreover, just like other products from George Foreman, the grill plate is removable so you can easily clean it.
Please note that this grill is an electric grill, the taste is always delicious but a bit different from what you will get when you use a charcoal grill
George Foreman GG50B is perfect and affordable grill you can use indoor and outdoor. It is fast, easy, convenient, and will save you a fortune on charcoal.

5. Weber 741001 Original Kettle Grill – The Best Charcoal Grill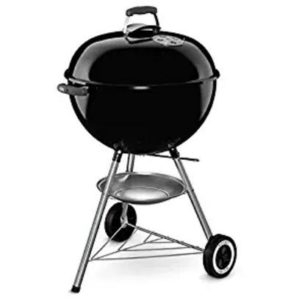 If you are looking for the best charcoal grill, I will recommend that you get this grill.
There are a lot of reasons why most people opt for a charcoal grill, they boast of the best cooking result, you will get the taste exactly the way you want them.
For over a decade, Weber has maintained the design of this grill because it's so good.
It comes with a large space and excellent venting which allow this grill to smoke.
When it comes to grilling, it provides you with lots of options, it is easy to clean, and you can easily remove the ashes.
You don't have to worry about the heat; it comes with glass-reinforced nylon handles which are heat resistant and long lasting.
The unit is manufactured in the USA and comes with 10-year warranty.
Weber 741001 is the best charcoal with large space for grilling. It is made in the United States and comes with a 10-year warranty.

4. Coleman Road Trip Propane Grill – The Best Portable BBQ Grill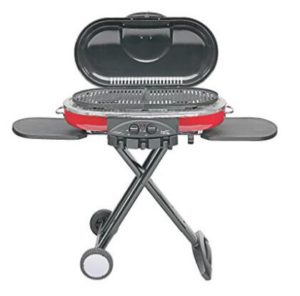 Apart from the stylish design, Coleman Road Trip Propane Portable Grill LXE comes with a lot of admirable features that make it deserve a space in your kitchen. It is easily one of the most versatile portable grills on the market.
Its versatility, portability, features, and affordable price tag are what endeared it to so many people. You can easily pack it up and take it along with you to wherever you are going.
You can cook a lot of stuff on this grill.
For instance, you can cook steaks on one side with a cast-iron grill grate and even go ahead to cook sauce onions on the other side with an accessory griddle plate. You can as well cook pancakes and bacon without worrying about grease messing up your food.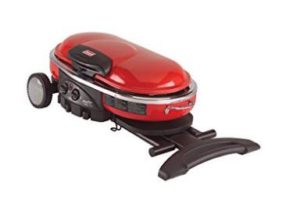 Coleman Road Trip Propane Portable Grill LXE is perfect grill for a family of four and a guest. It is very versatile, comes with an awesome design. Easy to move about and very affordable.

3. Blackstone 28 inch Outdoor Restaurant Grade Professional Grill – The Best Grill with 2 Burners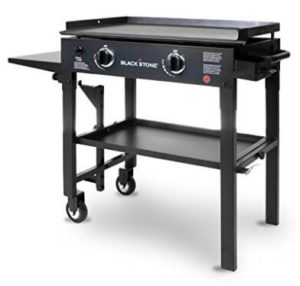 Blackstone is the best outdoor or backyard barbecue grill.
It comes with large enough space to accommodate all the fixings for your barbecue preparation.
You can easily regulate the large propane burners for appropriate heat levels and this has an ability to reach a combined total of 30,000 BTU.
Blackstone 28 performs well when it comes to keeping distribution even.
You even convert the machine into a grill machine by removing the 10 gauge steel griddle top.
The unit is very affordable, easy to clean and can cook various meal types.
Blackstone 28 is no doubt the best outdoor gas grill. It is very easy to clean, performs excellently, distributes heat evenly, and comes at a very affordable price. It also has a large surface to serve a good number of people.

2. Blackstone 36 inch Outdoor Flat Top Gas Grill – The Best BBQ Pro Grill With 4 Burners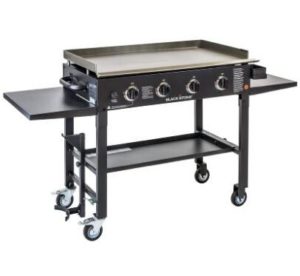 If you love Blackstone 28, then imagine getting another one with a larger surface and 4 burners.
This one works like Blackstone 28, the difference is in the size.
It offers you a restaurant style cooking.
It can cook everything from eggs and pancakes to quesadillas and grilled cheese to steak and potatoes.
Unlike other barbecue grills, you will be impressed with the bottom shelf and two side shelves that come with this unit.
The shelves allow you to store food and prep for cooking.
It is very simple to assemble and use. It also comes with an electronic ignition which means you won't need kerosene, charcoal, and matches to put it on.
You can easily turn it on with a push of a button.
You can easily transport the unit with the wheel around your yard or campsite. No doubt, if you want a large campsite barbecue grill, this is the product you should go for. It is the best campsite barbecue grill.

1.Weber 46510001 Spirit E310 Liquid Propane Gas Grill – The Best Built in BBQ Grill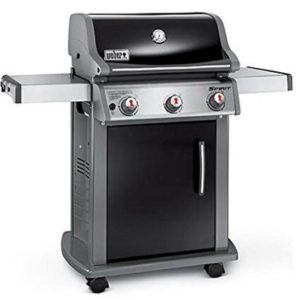 It is no surprise that Weber 46510001 Spirit E310 Liquid Propane Gas Grill made it as one of the best barbecue grills on the market now.
It is an upgrade of E310 but it cooks hotter and faster.
It has a large cooking surface of 64 inches to 424 square inches and comes with more burners.
The company added more control zones in the panel to make temperature control much easier.
Weber even added new functionality to this unit that makes it easy to pair the unit with other extras such as a griddle, pizza stone, wok, etc.
The surface is big enough for a small family and every easy to maintain.
Weber 46510001 is the best barbecue grill for a small family. It comes with tons of features and it is very affordable.

[jetpack-related-posts]