Are you planning to exercise your body? Then you will need some workout equipment to help you out. There are plenty of equipment you can use like treadmill, exercise bike, weight bench, and many more. Now we are going to discuss about one particular equipment, which is rowing machine. This machine can help you to lose weight and tone up majority of your muscles. If you are clueless about which one to choose, our 8 best rowing machine review & buyers' guide is ready to assist you.
Best Top 8 Rowing Machines
8. Stamina Body Trac Glider 1050 Rowing Machine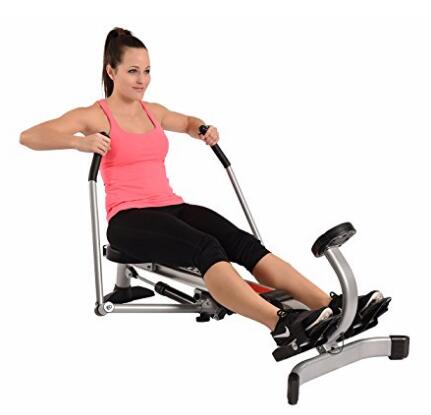 This is one of the top-selling rowing machines in the market. Most people usually buy it in the Internet in such a low cost. That is the biggest reason behind its popularity. This machine has a retro design, but you still can stay in shape with it. It has a unique rowing motion that gives your more range to move the handle.
Both of the handgrips and seat are padded. It aims to offer you comfort while using the rower. The seat may not feel comfortable for everyone, though. The resistance is adjustable. You can set into any levels you like for various intensity. However, we must warn you that the resistance may drop after heavy use. On each foot plate, there is a strap to secure your feet. Unfortunately, sometimes they can fail to prevent your feet getting slipped.
This machine includes multifunctional electronic monitor. Its performance is basic so it is easy and practical to use. It provides you information like the number of session you have taken or calories you have burned. It will keep motivating you in exercising.
7. Sunny Health & Fitness SF-RW5515 Magnetic Rowing Machine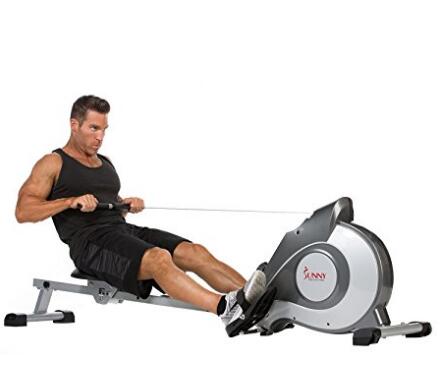 This one is a rower which uses magnetic resistance. You can set the resistance into 8 different levels. To make the users comfortable in using the machine, it offers fully-padded seat. Although there are other machines with better seat, this one is good enough already. The handlebars use non-slip grips so you can keep rowing without accidentally letting your hands off. You can find the same feature on its foot pedals with a strap to secure your feet more firmly.
This machine is foldable. Hence, you can keep it anywhere you like without taking too much space. It also has transportation wheels for easy moving. There is an LCD monitor which is easy to operate with only 3 buttons. The poor sides of the machine are its design and slide mechanism. The design is sort of dull looking, while the mechanism is quite noisy due to squeaky sounds from the sliding moment.
6. Stamina ATS Air Rower 1399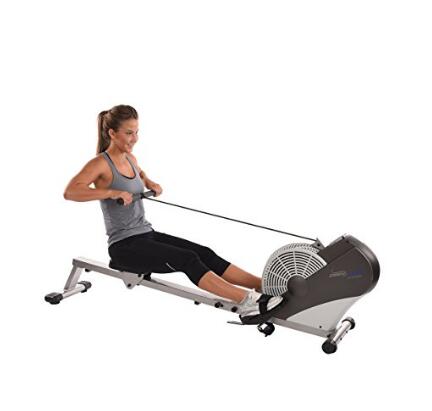 Do you prefer to have a rowing machine with air resistance? Then there is no reason not to look at this model by Stamina. This one does not use hydraulic mechanism or magnetic system for the resistance. Instead, it uses air.
When you pull the handle, it makes the fan blades in the flywheel spinning around and creating wind. If you pull it faster or harder, the wind will become stronger. The stronger the wind you can generate, the higher resistance you will get. That will make it much harder to row the machine.
Because of such function, it has no way to adjust the resistance. It is you who determine it depending on how fast and hard you row it. That's why some users who love more challenges may get bored with it since they cannot set the resistance into higher levels. Nonetheless, this is still one amazing machines, especially for beginners.
Furthermore, this machine has several features. It has multi-function monitor to track your fitness data like speed, distance, time, and calories. The nylon strap that pull the fan blades is quite durable. So, you can pull it as fast and hard as you can.
Before you purchase it, we must remind you that this rower is noisy. But, compared to other air-resistance machine, this one is not that bad.
5. LifeSpan RW1000 Indoor Rowing Machine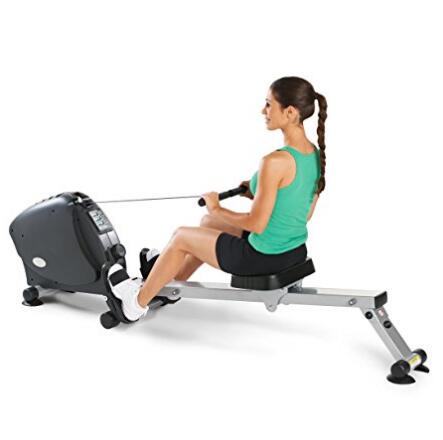 Noise is one of the things that people complain the most in using a rowing machine. The noises usually come from the pulling/rowing moment. If you are not a type of person who can handle that problem, then you can put this LifeSpan machine into your list.
It is a super quiet rower equipped with magnetic resistance. The machine has multiple resistance levels you can set up. That allows everyone with all fitness levels to be able to use it. In addition, the seat rail of the machine is quite long, which is perfect for taller people.
Like any other rowers, this one also features a monitor. Powered by one AA battery, this monitor will turn on automatically once you use the machine. It will turn off if there is no activity within 4 minutes. The data in this monitor is very easy to read. But, its lackness of backlit may trouble you to read it clearly in a certain situation. The other weakness of the monitor is that the recorded data may not be really accurate. Yet, that is a common thing to happen in such machine.
4. Stamina Avari Programmable Magnetic Exercise Rower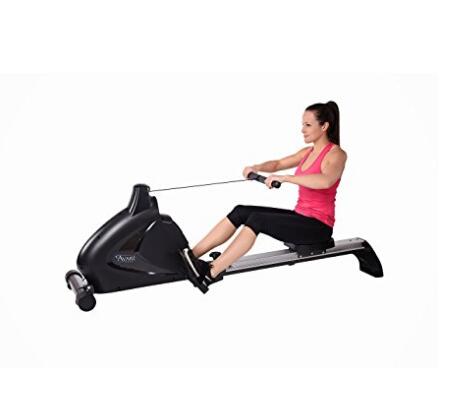 This next rowing machine is one of the best rowers in the market. The rowing motion is very smooth. It will not produce any noises thanks to the magnetic resistance. Thus, you can use this machine anytime you want without disturbing your neighbors.
The machine has a unique way for us to set the resistance level. Instead of rotating the valve, we set it by using the monitor. What you only need to do is pressing the up button for increasing or down button for decreasing.
Speaking of monitor, this one has a reliable display. It can record various data like time, strokes, watts, pulse, etc. What's more, it has a blue backlit so we can see the data in dark. To ensure you are working out properly, there is a heart monitor chest strap you can use. By wearing it, you will know whether you are exercising too hard or not.
The storage capability is quite helpful since it is foldable and easy to move. The only negative part some users have complained is its uncomfortable seat.
3. Concept2 Model D Indoor Rowing Machine

Now this is one strong rowing machine you can have. The construction is very durable and tough that it is usable in various training facilities, including your house. Besides everywhere, it is also perfect for everyone, either novice or professional, to use. Even most atheletes are using it.
This machine uses air resistance. As you can guess, you can only determine the level through how hard and fast you row it. And, of course, there will be loud noises coming out. Unlike other similar machines, this one has damper settings. Its function is to determine the amount of air going to the flywheel. You can set it from level 1 to 10 to give you a similar effect of a certain resistance. But, please remember it does not the same with resistance itself.
The monitor of this machine has some cool features. Besides tracking your fitness data, it enables you to save and store it via USB connectivity. You even can connect it to your PC for uploading data. The monitor arm is long enough to adjust the angle.
2. WaterRower Natural Rowing Machine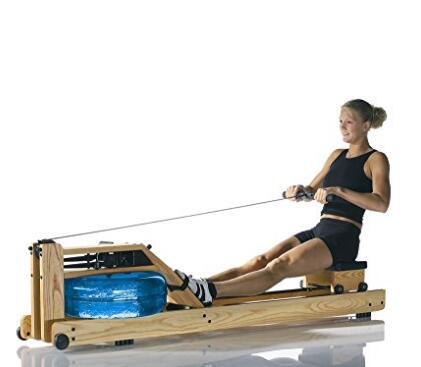 This is another machine which can offer you such an amazing performance. At first sight, we can clearly see how unique the design is. It is made of natural ash wood, but do not let it fools you. It actually can support weight up to 1000 pounds. So, people with any sizes can ride on it.
The other unique part is its water resistance. Yes, we actually use water as the main power of its resistance. Similar with the air rower, your strength in rowing it is the one that determines the levels. The harder and faster you row it, the higher intensity you will get. Adding more water into the tank can increase the levels as well since it will feel heavier. In contrast to air rower, this one is a lot more peaceful. So, you do not have to worry about noises.
This machine uses S4 series monitor. You can see all tracked data seperately to ease you reading them all at once in the homescreen. Unfortunately, the monitor is lack of advanced features.
To store this machine, you can simply lift it up into vertical position. But, it will be difficult for some people as the unit is quite heavy.
1. Lifecore R100 Commercial Rowing Machine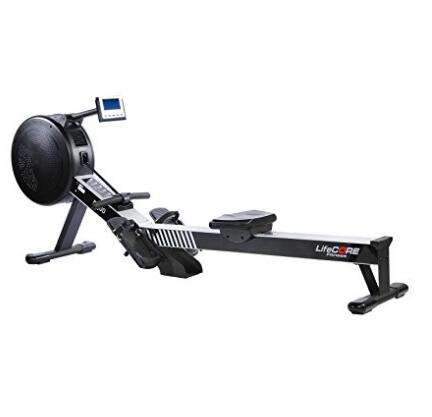 If you are looking for the best rower, do not look further other than this Lifecore R100 machine. This is the only commercial rowing machine that has 2 types of resistance, which are air and magnetic.
Each of them has their own strength and weakness. If you use the air resistance, you will have a smooth rowing motion. It can also offer you variable resistance levels (depend on your rowing power). However, like we have mentioned in previous air rowers, this one also produces noises.
For the magnetic system, you can adjust the resistance through the monitor. There are 16 different levels you can choose. You even can change the level without stopping your workout. And, there will be no noises. About the downside, the rowing motion is not the smoothest one you can get.
Aside from the weaknesses we mentioned before, this machine has many other features which you may enjoy like its monitor and oversized seat. If you do want this machine, you better prepare much money because it is very expensive.
That's all the 8 best rowing machine review & buyers' guide we can share with you. Based on the review, we can conclude that price talks more to us. The more expensive it is, the better quality you will get. But, it does not mean you cannot buy the inexpensive one. Despite of being cheap, they still can help you to get in shape.
[jetpack-related-posts]